<![endif]>

Join our Newsletter

& get our free guide

Starting Hands Revealed

We hate spam too!

We value your privacy and never share your email. All our emails have an opt-out link. Click it, and you will never hear from us again.





pokerstars marketing code

in various languages

pokerstars marketing code
code marketing pokerstars

pokerstars código de marketing

pokerstars marketingcode

pokerstars kod marketingowy

código de marketing pokerstars

marketing code pokerstars

pokerstars marketingcode

????????? ??? PokerStars

pokerstars marknadsföringskod

pokerstars marketing kódot
PokerStars d?af?µ?st??? ??d???
pokerstars review
in various languages

pokerstars review
revue de pokerstars

pokerstars resena

pokerstars bericht

pokerstars recensione

pokerstars review

revisão ao PokerStars

PokerStars felülvizsgálatát
PokerStars a?a?e???s?
3 Card Poker House Edge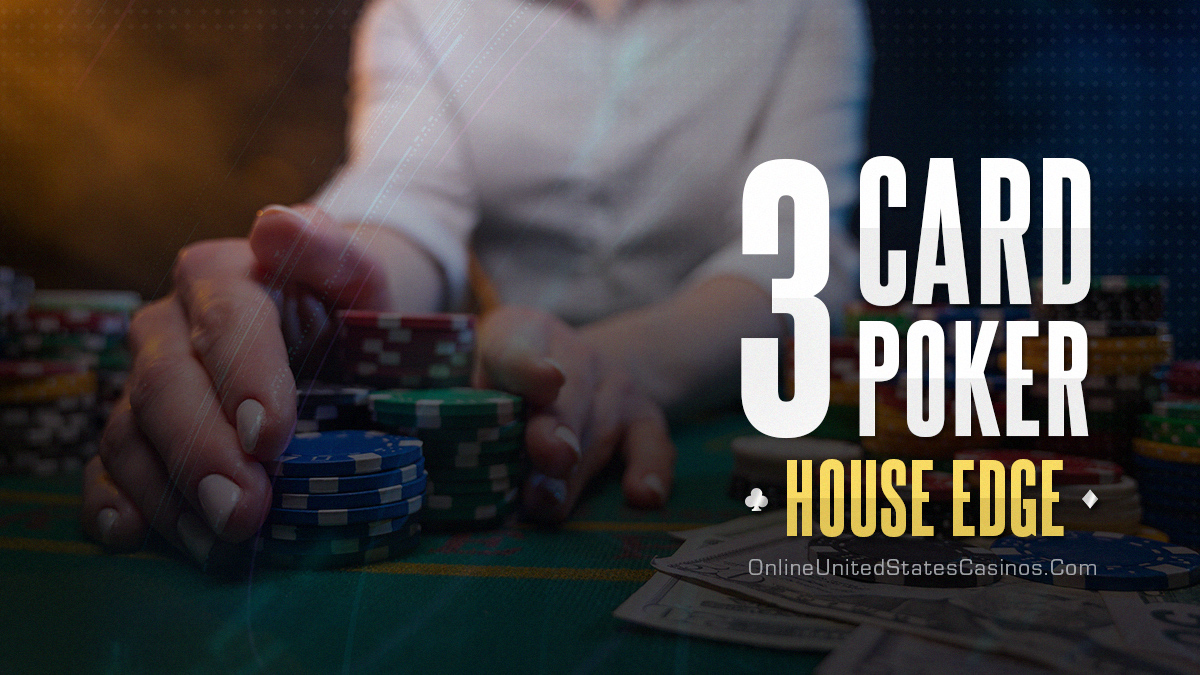 3 Card Poker is a casino-poker variant invented in 1994 by UK native Derek Webb. It is a proprietary player vs. dealer gambling game, for which Shuffle Master owns its US rights. It is the most successful product in this genre, and there are more than 2,000 3 Card Poker installations in gaming locales worldwide.
As this is a casino game that you play against a dealer, it features a house edge. It is the mathematical advantage the establishment hosting the game has over its players. It is their insurance that they will always come out ahead in the long-term. Short term, anything can happen. Yes, if you play millions of hands, you will never beat the casino.
The 3 Card Poker odds vary because the game features different payouts for its many side-bets. It also has several variations that have pay structure and rule tweaks. In general, in the base game, the house advantage can drop as low as 2.2%. Meaning the 3 Card Poker house edge compared to other casino games, such as blackjack, is slightly higher, but it is still more than acceptable.
If you are interested in testing your luck on this straightforward yet exciting table game with attractive payouts, you can find it at most quality gambling venues. Alternatively, you can check it out digitally in both its RNG (random number generator) and live-dealer format. The internet is home to a vast array of online casinos to play 3 Card Poker, most of which boast seamless mobile compatibility.
House Edge of 3 Card Poker Variations
Over twenty years ago, few casino gamblers knew of this table game. It did not become widely available until Shuffle Master purchased the intellectual property rights from Derek Webb in 1999. Fueled by their marketing efforts, it is now a casino floor mainstay that has given birth to several variations.
Prime – This version is identical to the classic, only adding the prime side-bet, which pays 3 to 1. When you make it, you are wagering that all the cards in your hand will be the same color. However, if every card in the deal is red/black, this wager pays out 4 to 1. The house edge in this variation is 3.62%.
Ultimate – Ultimate is one of the more popular variations out there, and it differs in a few ways from its originator. That said, the crucial difference here is the ability to raise your ante up to x3 on your play bet and the possibility of laying down a blind wager. If the dealer's hand does not qualify in this variation, your hand still has to beat his for you to win your ante wager. The house edge on Ultimate 3 Card Poker is 5.42%.
California – As the name suggests, this variant is prevalent in venues in the Golden State. It is unique due to a myriad of reasons. Most notably, the dealer flips over one of his cards before you make the play bet. There are also no bonus payouts here. Meaning, the ante pays even money. The house advantage with these rule modifications comes out at 4.3%.
Macau – The Macau variation is an interesting one. First off, the venue takes a 5% commission from each winning hand. Next, there is no qualification requirement, and ties result in no winner. The pay structure implemented here also varies from the standard version, and the house edge on Macau 3 Card Poker can go down to 2.5%.
Three-Card Brag – Many gamblers are not aware that the British gambling game called brag is one of poker's ancestors. However, this variation is distinct in that it does not incorporate the traditional poker hand ranking system. Three-or-a-kind is the highest valued hand here, also called a prial. The house advantage on this game is 3.37% for the ante and play bets.
How to Improve Your Odds of Winning?
The reality is that there is only one tried-and-tested strategy for 3 Card Poker. That is to make the play bet whenever you have a hand that consists of anything higher than a queen-6-4. When you have such cards, the advantage shifts in your favor, as in that situation, your win probability goes above 51%. In all other cases, you should fold because the math doesn't add up. Some players choose to make the play bet if they only have two cards higher than a queen and six, regardless of the value of their third one.
Another way of approaching real money 3 Card Poker is only making the pair plus wager. It is a side-bet offered by most gambling establishments, and when you make it, you are betting that your hand will consist of a rank that is a pair or better. You win this bet regardless of the value of the dealer's cards. It is an independent wager. Many gamblers opt to make it and do not even consider the play bet. It eliminates the need to struggle with making tough decisions and further simplifies an already straightforward game.
Furthermore, if you go down this road, the house edge on the pair plus bonus can fall in the range of 2.3% to 2.14% depending on the payouts.
Bankroll Management Tips
Remember, this is a fast-paced gambling game. If you are going up against an experienced dealer, on average, you should be able to play up to 70 hands per hour. If there are only one or two veteran players around you, this figure could go up to 80 or 90 hands per hour. So, it is easy to go overboard. You could go from a stock of chips to none within a few minutes if you are not careful.
Therefore, proper money management is a top priority. You must make a budget and stick to it. Map out how much you can afford to lose per session and play only that amount. A session usually constitutes one gaming adventure or night out on the town. Most players like to look at the table minimum and then multiply that by a set number of hands. For instance, if the minimum bet at a 3 Card Poker table at your gaming locale is $3, you could decide that you are willing to lose $600. Meaning, you can afford to play 200 losing hands. In theory, that should amount to more than two hours of gambling fun. Anything you win extends your gaming activity, but always be mindful not to go over $600 in losses.
Online, it is much easier to track your funds, as most platforms provide you with a detailed history of all your deposits and bets made. You can even set loss limits and self-exclude.
Remember, you should always set realistic objectives and never expect to make a quick killing at any table. Lowering your expectations will only increase the possibility of a positive outcome because one will depend on your outlook on things. The best course of action is to walk away when you are ahead or quit when you are nearing the end of your budget. Effectively managing your losses and wins will help you achieve a better winning result in the long haul.
Final Advice
3 Card Poker is a super-fun game to play. It features a low-enough house edge and decent payouts to attract gamblers of all levels of skill. Things move pretty fast at these tables, so be careful. If you are worried about your bankroll or want to make progressive bets, 3 Card Poker sites are the way to go. Online casinos let you set deposit/loss limits, and they allow you to play the game against both a live dealer and software. However, if you crave bright lights and busy carpets, look up a gambling establishment near you. Many carry the game in its original form or one of its variations. Keep in mind the queen-6-4 strategy, and besides the pair plus wager, stay away from most side-bets.
About the Author
Shelly Schiff is an authority on interactive gambling as she has spent over a decade in the iGaming industry. Shelly is best known as a top contributor to OnlineUnitedStatesCasinos.com, but she has also written for countless other websites during her eleven-year career. Shelly knows all that is to know about slots and has in-depth knowledge of all popular table games. In her leisure time, she likes spending time with her family and reading crime novels.