"Poker Savvy Plus" Exposed
PokerSavvy Plus is a website specialized in online poker training videos. A relatively newcomer in the poker training market, does PokerSavvy Plus deliver on its promise of "moving you up"?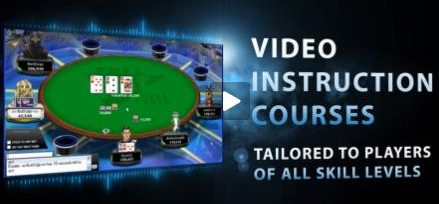 Olivia Wang here...
As an online poker semi-pro, I had tried most poker training products such as Cardrunners and DeucesCracked. There are tons of tips that you can learn from watching poker pro videos, but the value you get is not the same everywhere.
I recently heard good comments about the PokerSavvy Plus training program and I decided to see for myself what it is worth. I am already profitable, but you need to constantly sharpen your skills and remain competitive as online poker rooms regulars keep getting better and better.
Poker Savvy Plus Videos
---
First let me say a word about online poker training videos.
As part of the online poker boom, technology has made online poker videos easily available to the public. These videos are recordings of a playing session. It can be single table, multi-table, ring game, sit'n go or tournament, heads-up, short-handed or full ring.
Here we are talking of a top poker pro recording his poker session and commenting it in the speaker. He may make his comment simultaneously or at a later time with the benefit of hindsight. In that case he can focus on the important aspects he decides to emphasize. The video can include tutorials as well, as a short lecture in a powerpoint type of presentation.
Every serious online poker player that I know subscribes or has subscribed to one of these poker training services. At least you should test if this can benefit you. As most solid players have watched such poker videos, it is a good idea to at least know what it is all about.
Personally I have gained and continue to gain much knowledge from these great videos.
The ability to see a player's hole cards while he explains his thinking process is the type of precious information and teaching that you cannot glean by any other mean. Not in books or in forums. Seeing the hands developing on the screen as if you were in the head of another player is unique and invaluable.
As I said it is a given that there is value in watching online poker videos in today's challenging times, and the next question is where to find the best videos and the best deals.
Poker Savvy Plus Training Videos
---
First the at Pokersavvy Plus.
PokerSavvy Plus has a stable of top pros. To mention a few, Mike Watson has total live tournament winnings over $2,3000,000. He won a WPT bracelet at the Bellagio Cup IV and finished 3rd at the 2008 EPT London High Roller Showdown.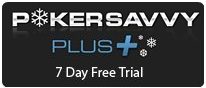 Another famous pro is Dani "Ansky" Stern who finished 4th at the WSOP Event #2 $40,000 buy-in No-Limit Holdem for a cool $548k. Only 21 years old, he is a rising star of online poker who is highly sought after for his advice at Pokersavvy Plus. Note that the pros are reachable through the forum or by reading their blogs.
Second the .
At the time of writing, Pokersavvy Plus had , and they add one new video each and every week day, like clockwork. This is one of the largest and fastest growing collection of poker videos on the Web. On average the length is one hour, sometimes a bit more or less.
This poker video collection is focused on cash games, but they have a decent one third of the videos covering tournaments. Expectedly NLHE dominates with two third of all videos, but they have videos on all game variations. LHE (11%), PLO (8%), Omaha HL (3%), HORSE (3%), Razz (2%), Stud (2%), Stud HL (2%) and 2-7 Triple Draw (1%).
There are a total of 24 contributing pros, as they invite guest pros as well. One highlight is a set of 24 videos recorded by Mike Matusow, as he was a Pokersavvy Plus pro for a while. Most of these are HORSE or Omaha though, and Hold'em fanatics might be disappointed (but there are tons of Hold'em videos from other pros).
click to enlarge

One highly interesting video (and you may watch it a few times to absorb its content) is a heads-up NLHE match between Mike Matusow and Dani Ansky Stern. What is particularly interesting is that the hole cards of both players are shown. One version contains Mike's comment; another version has Dani's comments. This is a gem.
The videos are well organized within thematic series. For example Anksy has a series on NLHE heads-up; there is a series on the PokerStars Sunday Millions by Foucault; a series on Australian poker; a series on beating up $100NL, etc.
The image quality of the videos is good. You can see everything such as bet size and cards (not true for all poker videos at other places). The sound is good too. Some pros speak better than others, but overall the sound quality is excellent. The videos load and play fast (faster than some other sites such as cardrunners where it takes forever to start a video).
As far as teaching goes, not all poker pros know how to teach their craft. But I found the material at Pokersavvy plus very pedagogic and well explained. The pros speak in a friendly and entertaining way, as this is their passion. Using a descriptive, explanatory approach. And they are in touch with a wide range of skills and strategies
Then .
I had a very good surprise when I found out about the price, as this is one of the best if not the best deal in online poker training.
Poker Savvy Plus Online Training
---
There is no signup fee and there is a seven days free trial. No obligation whatsoever. This is as good as poker for free.
Just cancel your credit card subscription in time if you do not like what you see, and you will not be charged a dime. This is a no-brainer. If they take the risk to show you that many videos free for one week, they must think that their product is good.
All other online poker training sites that I know ask for a sign up fee of at least $100 and offer no free trial. Apart from that, the monthly fees are all in the same range $20-30.
Another benefit from using Pokersavvy Plus is that you can download the videos, store them on your computer and watch them later. Most training sites do not let you do that, and if they do, their videos require a valid membership subscription, otherwise you will not be able to play them, even though you downloaded them a long time ago.
So if you stop your membership at another poker training site, you won't be able to see your dowloaded videos anymore. This is called the DRM (digital rights management) system. But not at Pokersavvy plus. Pokersavvy videos are free to watch at any time after download. Once you download them, they are yours forever.
The Pokersavvy Plus site is nice, stripped down and easy to navigate. The videos are easy to find and to sort with good filtering options. The supplemental material is well organized and labeled. The pros participate frequently and substantially in the forums, and the pro blog area is active as well. Note that they also offer rakeback deals.
Many friends of mine were skeptical about the whole video thing because their game was already profitable. They thought that they could learn more every day from other mediums (forums, books, articles), and were reluctant to invest in a mass video site.
But yeah, Pokersavvy Plus changed their mind with its all-star roster of poker pros that cranks out a steady stream of high-quality videos on a regular basis.