Poker-Edge Exposed: the special review you need to read before deciding to try pokeredge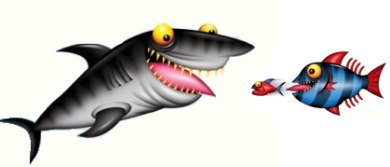 Is pokeredge a worthless software or is it a poker weapon that will help you make money playing online poker?
Randy Barron here...
I am an online poker semi-pro and profitability is a question of survival.
Online poker is a game I know like the back of my hand. As I have been playing for many years now, one thing that is very clear is that online poker is becoming more and more competitive. Players get smarter and smarter. They buy the books from WSOP main event champions and they buy software.
Without at least a few software tools at your disposal, it is very hard to compete and to make money. I have tested and continue to try most of the poker software tools in the market and I recently tested pokeredge.
First Pokeredge is one of the few poker tools offering a . So the simplest way to get an idea about what poker edge is all about is to go to their website and start the free trial. If you do not like it, cancel after five days, but at least you will know what your opponents see.
Poker-Edge tracks millions of online poker players
---
I found PokerEdge to be an amazing piece of poker tracking software. This is like the next generation of poker tools, which pushes online poker datamining to a new limit which could not have been conceivable a few years back. Anyway nothing like that existed a few years ago.
When I tried Poker-Edge (the setup is simple), I then sit at an online poker table at pokerstars. Poker-edge automatically displayed the statistics of the other players at my table. Note that unfortunately since June 2012 pokeredge does not support pokerstars anymore. But they have all other major rooms, such as Party Poker, carbon poker or William Hill.
The shocking thing was that I got significant information (significant because the number of hands on record is shown, and for some of them it was hundreds or thousands) about players I never played with before. As a side note, I mostly play at Full Tilt Poker, and I used pokerstars for testing purpose.
Other products such as Holdem Manager or Poker Tracker can also display real-time statistics, but pokeredge does it with a significant twist. With poker-edge, there is no need to build and rely on your own local poker stat database.
And it does not matter if you have ever played with the players at your table as Poker-Edge tracks millions of online poker players through its farm of datamining computers.
So pokeredge is a poker tracker like others in the market, but it is the only "remote" poker tracker. This offers at least three benefits:
No need to maintain your own local database (postgresql or other); no need to import hand histories or to do upgrades,
Access to a huge database with millions of online players,
No need to buy hand histories.
In the next section, I will discuss more generally about poker trackers and their extensions, HUDs or head-up displays (yes this is head-up but not heads-up, which is a match with two player).
Poker-Edge: the ultimate head-up display (HUD)
---
Every player has specific ways of betting, from the ultra-aggressive maniac to the ultra-passive mouse. But if you have played some online poker, you have noticed that usually when you sit down at a specific table, most of the other players are unknowns to you.
Did you sometimes wish you knew more about an unknown player who suddenly raised you allin at the river? Maybe you had a set and the river card completed a potential flush draw. Was this unknown a stupid beginner trying to bluff you out of the best hand or a dangerous shark value-raising the nuts? These are some of the questions that poker-edge can answer for you, plus many more.
click to enlarge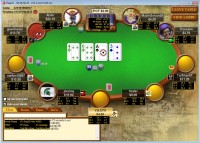 As soon as you sit at a table, poker-edge will immediately display the statistics of the other players, such as VPIP, PFR, AGG, etc. There will be no unknown players.

HUDs are powerful software displaying your opponents playing stats as an overlay to the table. Using standard HUDs, it is normally required to first play against a player in order to gather the historical stats necessary to feed the HUD. Alternatively, you can datamine such hand histories, or even buy hand histories, but this can be tedious work.
In any case, if you do not have the data related to a given player when you sit at his table, he will be treated as an "unknown" by traditional HUDs, which won't display any stats. This is often a source of difficult decisions when such an unknown makes unexpected moves as was shown earlier.
In another example you flop two pairs. You bet, get check-raised 3 times and call. At the turn, the villain makes a big bet. The correct action obviously depends on a lot of factors. You might fold given the level of aggression that you just received.
But if you just had 100 hands of history or even less, your poker HUD would have revealed that this player was a maniac and you could have called instead given the high chance to be ahead.
In fact a few dozen hand histories are enough for a good first impression of any player's style. This impression will not be perfect, but it will be far more accurate than being totally blind.
This is why Poker-Edge is so much more powerful than traditional HUDs. Poker Edge gathers the history of millions of poker players for you, 24/7, using an army of computers whose only task is to collect hand histories from all the major poker sites in order to build the most exhaustive online poker stats database in the World.
They add 10+ million hands per day to their database and no other product is coming near.
In the previous example, if you had sit while Poker-Edge was running, and assuming that Poker-Edge had data on this particular player, it would have immediately represented him as a maniac and helped you make a profit, because you would have called his likely bluff.
Poker-Edge is a customizable and feature-rich database
---
One very cute and useful feature of poker-edge is that it attaches an icon next to each player at your table. This tells you instantly what type of player you are playing with.
A tight-aggressive-aggressive (TAA) player is depicted as a shark (AA means aggressive preflop & aggressive postflop); a tight-passive-passive (TPP) player as a mouse; a loose-aggressive-aggressive (LAA), i.e. a maniac, as a Tasmanian devil, etc.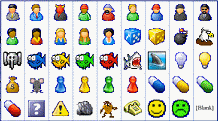 Red fish, green fish and blue fish are various fish with different degrees of fishiness. Other player avatars are a telephone, a shark or an eagle.
By default, poker-edge displays 9 historical stats: number of hands played, VPIP, PFR, AGG, attempt to steal, fold sb to steal, fold bb to steal, WSD and W$SD.
You can modify this default layout. You can also consult more detailed statistics by hovering the statistics box; these statistics can be broken down by streets, fold, turn and river. You can also see the table statistics.
Poker-Edge's list of features is long, and they keep on adding new ones. For example, multi tabling is possible. Taking notes. Creating integrated buddy lists alerting you when your favorite fish is logging in.
Note that poker-edge is authorized at all major poker sites, except PokerStars since June 2012. But you can use it at Party Poker or Carbon Poker for example. I tried pokeredge at pokerstars at the time but it works similarly at other rooms.
Pokeredge Review Summary
---
Get real-time reads on your opponents!
If you start using poker-edge, there will be no need to worry about maintaining a poker stat database and a local poker tracker application. All the tiresome background HUD and database work will be done for you.
And there will be much fewer unknown players at your tables (but still a few). Poker Edge is clearly in a league of its own compared to the traditional HUDs like Poker Tracker or Holdem Manager. No other poker tool offers what PokerEdge has to offer.
If you have not yet opened an account at Absolute Poker or Ultimate Bet, you can get pokeredge for free for three month by opening an account in one of these two rooms. Click here for details (select the special offer after clicking)
Poker-Edge works with over 50 poker sites, including all major rooms: the Party Poker Network, the iPoker Network, Bodog, Pacific Poker, the Cake Network, the Ongame Network, Merge Network and the Microgaming Network. Wherever you play online poker, chances are that poker-edge will be helpful to you.
First of all the only room not supported by poker-edge is pokerstars. Otherwise most poker sites allow Poker-Edge. If not, pokeredge has devised a way to keep their software undetected. And it works perfectly. There is no worry with getting detected and the thousands (and growing) users of pokeredge can confirm that.
Recently Poker-Edge has released their latest version Poker-Edge 5, with more power and more features than ever before.
Poker-Edge now includes a number of add-ons beyond the database and the HUD. Detailed Player Reports can show you a full analysis of every player. Notifications are special alerts that you can set up to make sure you do not miss specific opportunities. There is also an integrated poker odds calculator.
Finally Lobby Edge is a powerful add-on that includes "Table Finder" and "Buddy List". This tool plugs into Poker-Edge's massive player database and instantly scans all tables at a specific blind level. It tells you exactly which tables are the easiest and most profitable, so that you can pick the juiciest ones.
There are so many tools in the new pokeredge that you may not need any other poker aid.
. Do not miss this offer and judge for yourself if Poker-Edge will help you win more money playing poker.
After a quick and easy setup, you'll have the best poker tools available right at your disposal. Poker-Edge provides automatic statistics as you play online ensuring that you make better bets and win. This tool will significantly increase your profits regardless of experience level.
Whether you enjoy William Hill or prefer the tables at Full Tilt, Poker-Edge will improve your strategy no matter which online poker rooms you prefer. Luckily, these days players have many options for playing poker online.
You can instantly access different versions of the game like Texas Hold'em or Omaha. Players can also try out lesser known poker variants that they wouldn't be able to find otherwise. Online poker rooms also have various formats like sit and go tournaments and freeroll options. You can get all of this instantly from your computer or even smartphone or tablet.
You can conveniently compare different poker rooms by reading through online poker reviews. This way, you can experience all that online gaming has to offer and join in on exciting and competitive poker games going on all the time. Make sure to check out each online casino poker rooms with Poker-Edge so you can win real money while playing entertaining poker games.
Note: this review is from an independent writter. This is not an incitation to use pokeredge, just a plain review of their product. Learn2holdem does not support or endorse the usage of pokeredge. Use it at your own risk.