Vanessa Rousso
Sexy "Lady Maverick"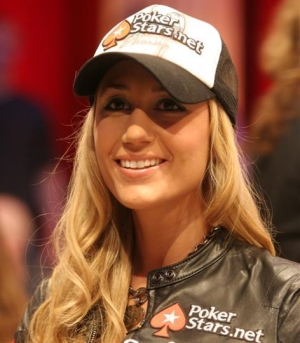 Vanessa's MySpace profile describes her as a law student and poker player, but forgets to mention that she is one of the most beautiful faces in the world of poker.
Vanessa Rousso, who began playing poker when a minor, is also known to host poker coaching sessions and camps.
One of her recent ventures was the Big Slick Boot Camp on July 5th 2010, which featured a WSOP Main Event Prep Camp led by Rousso for poker players who wanted to improve their game in time for the WSOP championship tourney.
Born in 1983 as Vanessa Ashley Rousso, she grew up in Paris and went on to study law at the University of Miami. Vanessa holds a dual citizenship with the US and France.
She has been playing poker professionally from the year 2005 under the name 'Lady Maverick'. Since then Vanessa has accumulated a total of over $2,700,000 in live poker tourney winnings and is currently part of team PokerStars.
Vanessa, who looks like a model, has also been featured in the Sports Illustrated Swimsuit Issue of 2009. She has been elected class valedictorian when a student. Vanessa has been participating in WSOP tourneys for a long time now and has placed in the money more than a dozen times.
Vanessa Rousso tournament winnings
Vanessa's career is already full of prizes and final tables, both live and online. Vanessa has thousands of fans all over the world and at the time of writing she had 15,652 twitter followers. They follow her (online or in person) all over the world as she participates in the big tournaments, waiting with their fingers crossed to see if she will take home a championship prize.
Vanessa Rousso has been successfully playing at the World Series of Poker in Las Vegas with numerous cashes, but no bracelet yet. She has cashed in twice in 2010: in the $1,000 no-limit hold'em event and most notably in the $10,000 heads-up NLHE event, earning over $94k for 5th place. Vanessa has had money finishes at the WSOP every year since 2004, winning a total of $377k.
Vanessa holds the fifth place ranking for the top female poker players in the world. Other feathers in Vanessa's cap include a record of being the youngest woman to play at a WSOP final table circuit event, a 7th place WPT win in the 2006 Five Star World Poker Classic and the Borgata Poker Open championship win.
Vanessa has acquired several wins under her belt in the year 2009, which includes a runner up position in the 2009 NBC National Heads-Up Poker Championship, winning $250k.
Vanessa is a great online poker player as well. In 2007 she finished second at the World Championship of Online Poker NL Hold'em Main Event run by pokerstars, earning $700,782.50.
Currently married to Chad Brown, Vanessa is an adventure enthusiast and loves trekking and outdoor activities and lives by the motto 'work hard, play hard.'
In addition to poker, Vanessa Rousso is in high demand for sponsorships, such as being a GoDaddy Girl, a very visible spot with the number one hosting company in the world. She is also a sponsor for the EQ Energy Drink created by EQ labs, while also promoting an iPhone app called "Poker 1 on 1 with Vanessa Rousso," which is for sale at the Apple App Store.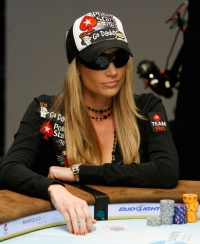 Vanessa also participates in some television shows, playing poker or commenting games.
As a French-American dual citizen, Vanessa is as popular in the United States as she is in France and she can be often seen on the TV in both countries.
What a busy schedule for this young and smart beauty. Always between two planes, she still manages to play hours of online poker at , just to stay in shape.
If you sign up at pokerstars, you can observe Vanessa Rousso playing poker there. Her username is 'LadyMaverick'. Or you can play her, if you dare.