Casino Poker Games
Playing Online Poker vs Land-based poker rooms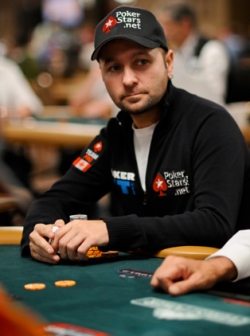 Poker witnessed an amazing boom when it became available to players at online casinos all over the world.
Players can now pit their wits and skill against one another 24 hours a day from the comfort of their own homes.
In countries where they haven't got Land based casinos at all such as Scandinavia, the introduction of the new online poker rooms at Guts and other operators opened up a whole new world for eager poker players.
Comparing online and offline poker
The debate rages as to whether online poker or land-based poker is better but one thing that is certain is that they compliment each other. Land-based poker relies on different skills, reading a player's body language or reaction at your table are key to your success.
Online poker does not have this. Instead players rely on different behavioural "tells" that are not physical. To get the better of an opponent online, players mainly focus on betting patterns, speed of play, the chat box and flop percentages to get the upper hand.
The key to online poker being so popular is that anyone with a computer, internet connection and a poker account can join the action instantaneously. Some sites require you to download their software (poker client) to play and once you have you can join the fun.
Most operators with poker-rooms will allow you to play instantly in your browser as well. Many now have mobile technology that also enables you to play on the move, but the nature of the poker game means it has not been such a success at mobile casinos due to its complexities unlike online slots.
Online casino benefits
Online casinos are able to offer all variations of poker from the most popular forms such as No Limit Texas Hold'em and games often not offered in land based casinos like Fixed Limit Omaha Hi-Low. Many players highlight the variety of poker games online as a great benefit to improving their skills.
It is less intimidating playing online than in an actual casino. This suits novices and encourages regular players to try other not so popular forms of poker that they have been too intimidated to pursue in land-based casinos. Another great advantage of online venues is the chance to practice on free tables with play money or joining freerolls and honing your poker skills in a tournament setting before playing for real cash.
Online casinos are able to offer good incentives to players such as generous welcome bonuses and reload bonuses for regular players. Via satellites you can even win a seat in a large glamourous land-based poker tournament like the WSOP (World Series Of Poker) or the WPT (World Poker Tour).
In 2003 the winner, Chris Moneymaker, shocked the poker community taking home the WSOP main event after having qualified through an online satellite. Most poker players worth their salt would love the opportunity to play in a lucrative tournament against the modern day stars of poker. Even if it is just for the right to boast about it to their friends!
Speed of play is another major difference when comparing the two. Land-based poker is much slower as the dealer has to collect, shuffle and deal the cards after every hand. Most land-based games average 30 hands per hour. Shuffling and dealing are immediate online, as is the time consuming chip counting when a pot is split.
Factor in auto functions available online and online poker is 3 times quicker, an average of 90 hands being played per hour. Online players can also play multiple tables simultaneously, further increasing the amount of hands they can play.
It is safe to say that the marriage between land-based poker and online poker is a match made in heaven. There is no reason why any player can't enjoy both and who knows, become the next poker sensation!