How to play blackjack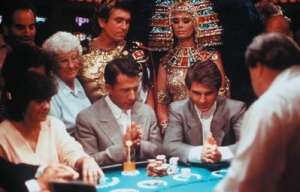 One of the biggest downsides to online poker is that it's hard to learn, especially when you're a complete newbie that's never played before. Because there are so many different things that you have to learn before you can have any hope of winning.
If you're new to the game of holdem, then you would be best off taking a look at our poker strategy section which has loads of articles that can help you learn about the game.
An easier alternative to poker though is blackjack which is also a card game. With blackjack you play against a dealer rather than other players and the idea of the game is very simple; you aim to get card value totals as close to 21 as you can without going over. Whoever gets closer out of you and the dealer wins, it's as simple as that. Here is a full list of blackjack rules:
Basic Game Rules - You are dealt two cards at the start of each game and so it the dealer, but you can only see one of the dealer's cards. Then you play your part of the game until you choose to stand (see what this means lowers down) or go bust. Once you have chosen to stand, the dealer will then play their part of the game.
The dealer follows a simple set of casino rules and in general the two rules they follow are hit on all card values of less than 16 and stand on 17 or over. Here are the different actions you can make when you're playing blackjack:
Hit - This means that you want another card.
Stand - This means that you don't want any more cards.
Double - This means that you double your original bet and you only want one more card.
Split - You can split a pair of card and have two hands of cards rather than one. For example, you could split two 7's.
Surrender - This is when you give up on your hand and get half of your original bet back. This isn't available on all blackjack games.
Insurance - This is an additional bet that is offered to you when the dealer is showing an Ace and you're insuring yourself against the dealer having a Blackjack (21). If you choose to place the insurance bet and the dealer does in fact have Blackjack, it will cover your original bet so you neither win nor lose.
Those are the different actions that you can make during a game, but there are a few other rules that you need to be aware of before playing blackjack:
The push rule - This is when you and the dealer end up with the same hand e.g. both have 18. When this happens, it's called a push and you get your original bet back, you neither win nor lose.
Soft and Hard hands - When you get an Ace it is either worth 1 or 11. It will always take the 11 unless you go bust, then it becomes one. For example if your first two card where an Ace and a 4, your hand would be worth 15 and 5, this is a soft hand, when the Ace has two values. If you chose to stand it would stay at 15.
If you chose to hit and you got an 8, the new value of your hand would be 13 and 23, but 23 is of course a bust, so that means the Ace goes to being a one and your hand value is 13. This is a hard hand, when the Ace only has one value.
How to Play Blackjack
---
How to play depends on whether you're going to play online or offline. In a land based casino such as the ones in Las Vegas you simply walk up to a blackjack table and buy your chips. You will then take one of five seats at the table. The other four seats will be, or may already be taken by other players.
Once you have your chips, it's then a simple case of playing against the dealer as described in the rules. If the table has other players on it, you will all be dealt your cards at the start as will the dealer.
Then you will all make your decisions one at a time and once you've done this, the dealer will have their turn. Once this has happened, the winner(s) are paid and then the process starts over again.
Playing Online
---
If you've decided to play blackjack in an online casino then the first thing you need to do is find a casino that is reputable and reliable.
Once this is done you then can choose whether you want to play on a random number generator game, or a live game. The random number generator game is played via software and this is played by yourself.
If you choose to play a live game, it's pretty much like playing in a real casino because you can see real dealers and real cards via a webcam. You play this with other players as well just like you would in a real casino depending of course on how busy the online casino is. You can also speak to other players via a chat window.
You don't have to travel all the way to Vegas or even to the closest casino to practice blackjack. Whether you are a seasoned veteran or a beginner at blackjack, players have the amazing, and convenient, opportunity to play blackjack from anywhere with online casinos.
Online casinos have every type of blackjack under the sun available with one click. Players can enjoy the most popular games or try out less common variants of blackjack. Play single-hand, multi-hand, punto banco, and beyond right from your computer, smartphone, or tablet device. It's that simple.
One of the things that make online blackjack so great is that players can choose between real money games or play for free. Free blackjack demo games give players the chance to practice blackjack strategy without risking any money.
Once you have spent sufficient time playing free blackjack then you should play real money games to win some cash. A review of Jackpot City's blackjack games gives an idea of just how many games are available online. This particular online casino has over 40 different types of blackjack including Big Five Blackjack Gold, and Super Fun 21. Players around the world can find hundreds of online casinos offering all kinds of blackjack variants with real cash payouts.
Blackjack Strategy
---
Blackjack is a game that involves both strategy and luck. With the use of basic strategy, you can cut the house edge down to around 0.5% which is low for a casino game, but it's an advantage in favour of the house all the same.
Basic strategy is a set of instructions that tells you whether to hit, stand, split and so on for every different card combination for both you and the dealer. By following basic strategy, you give yourself the best odds. There are loads of free basic strategy cards online, The Wizard Of Odds has a cool basic strategy generator where you enter the rules of the game you're playing and it will give you back the suitable basic strategy card.
You will also need to decide how much you are going to bet on each hand because basic strategy only tells you what actions to take, not how much to bet. There are several different mathematical sequences that you can use when playing blackjack or you can simply choose to flat bet which means you bet the same amount on every hand. You can read about different betting systems for blackjack at Blackjack Online which was linked to higher up this page.
Of all the different casino games you can play, blackjack is probably the best one because of how low you can cut the house edge as described above. It's important to remember though that the house will always have this small advantage. This leads you to make a decision; you need to decide whether to play the much easier to learn and play blackjack where the house will have a small advantage, or the much harder to learn and play poker which can be more rewarding if you invest a lot of time into learning how to play it effectively.