Bill Chen
Poker player and writer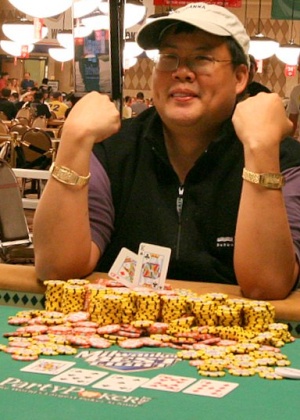 William "Bill" Chen is a talented poker player, software designer and a quantitative analyst, rolled into one.
Bill is a "Friend of PokerStars", in other words he only plays online poker at pokertars due to their superior games and tournaments.
Ever since he obtained his PhD in mathematics from the University of California in Berkeley, Bill Chen has been experimenting on how he could apply his advanced knowledge of mathematics to better his game of poker.
Chen is a unique poker winner who believes in luck despite his strong mathematical and analytical skills which he uses in his game.
Chen's earliest poker wins can be traced back to 1999 when he finished 2nd in the San Francisco Open Limit Stud and won $5,610. After that, he proceeded to win a total of over $1,200,000, two WSOP bracelets, 42 cash-ins and 7 first place finishes.
According to Chen, his winning strategy involves mathematical concepts, a well balanced game, the ability to call out at the right time and analyzing the behavior of his opponents.
Chen has two WSOP 2006 events to his name: a $2,500 No Limit Hold'em Short Handed Event and a $3000 Limit Texas Hold'em, in which he won prizes of $442,511 and $343,618, respectively.
Chen has also had several cash-ins, including his $41,600 win at a No Limit Texas Hold'em event, which was a part of Legends of Poker organized by Bicycle Casino.
Chen has participated in several unique poker tournaments like the Brilliant Mind's Week of Poker after Dark where he came in 5th and the AT LARGE No Limit Hold'em event. Other interesting poker events Chen has been in include the Spotlight No Limit Hold'em Championship NAPT Event of the pokerstars.eu HAPT Event - DeepStack Extravaganza where he won $10,446.
At the 2010 WSOP Bill Chen almost caught his third Gold bracelet in the $3,000 HORSE event when he reached the final two in a heads-up confrontation with none other than Phil Ivey. Bill had a huge chip lead over three times more chips than his opponent, but he learned that Phil Ivey is not the type of opponent you want to have at your final table, even short-stacked.
Chen is the originator of "The Chen Formula," which has been published in "Hold'em Excellence," a book authored by Lou Krieger. The formula employs a method of ranking the starting hands of Texas Hold'em by assigning numerical values to them. The poker genius has also coauthored "The Mathematics of Poker," which introduces to the reader the quantitative techniques and game theories as applied to poker.
Bill Chen does not play poker professionally in spite of the spectacular poker success he has enjoyed, just as a semi-pro.
He is currently employed in the Statistical Arbitrage Department of Susquehanna International Group, which gives him leave for six weeks annually to participate in the World Series of Poker.
Bill is also the honorary chairman of the Churchill Regular Association of Poker, a special Churchill College poker club frequented by 21 Nobel Laureates.
In online poker, Bill Chen plays exclusively at PokerStars where he is a one of the "Friends of PokerStars". These players are semi-pros or famous amateur players who represent pokerstars in land-based tournaments.
If you sign up at pokerstars, you may find yourself sitting at a tournament next to Bill Chen. Remember he is very analytical and a bit straightforward, but do not take him for granted.