Ten Deuce Doyle, a Brunson biography
Doyle Brunson is the Godfather of poker.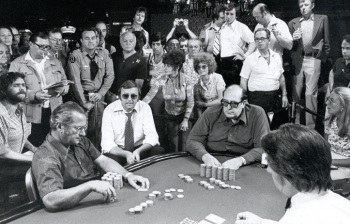 Cool and charismatic, his aura at the table mirrors that of Marlon Brando in Mario Puzo's original masterpiece.
But there is no dark side to Doyle. At the ripe old age of 77, he's no spring chicken, but he continues to exact a profound, positive influence on the game.
Player, blogger, gaming operator, writer Doyle Brunson has inspired just about everything in poker.
Doyle Brunson, The Legend
Despite his advanced years, 'Texas Dolly' is very computer savvy, keeping fans updated on his personal Twitter page. His willingness to keep with the times epitomises his passion for a game once berated for its alleged degeneracy and links to the criminal underworld.
Having witnessed the game's meteoric rise to prominence - since its underground, back alley days to the online boom, Brunson acts as a general spokesman and authority on poker and gambling.
His Super System book, first published in 1978, is widely considered to be the holy grail of poker literature, explaining the game's key mathematical and theoretical principles. Doyle is still a regular on the tournament circuit, and has helped elevate poker's international profile by fronting organisations such as the Poker Players Alliance (PPA).
Brunson, who heralds from rural Texas, was far from your stereotypical country bumpkin. He excelled in sports, winning an athletics scholarship to college after excelling in baseball and mile-distance running. However, a ended his sports career prematurely. Brunson completed his academic studies by obtaining a Masters in Administrative Education, however a career in teaching did not satisfy his financial ambitions.
Doyle began to dabble in illegal poker games circulating around Texas in the 1950's. At that time, poker was considered a social taboo, and games attracted 'undesirables', including pimps, thieves and charlatans. Whereas players today experience royal treatment in Vegas casinos (Phil Hellmuth is accompanied by a whole entourage in his lavish WSOP entrances), Doyle was confronted by shotgun wielding robbers.
The dog eat dog, sordid world of poker was softened when Brunson met fellow poker legends Amarillo Slim and Johnny Moss, and the group embarked on establishing the World Series of Poker with founding father Benny Binion. The 1970's saw Brunson enter WSOP folklore, as he captured six bracelets, including .
The rise of poker
Never has the phrase, 'form is temporary, class is permanent', been more apt when describing Doyle Brunson's poker credentials. Brunson failed to scoop a WSOP bracelet in the 1980s, but entered the new millennium with a bang by securing the $2k HORSE and $5k six-max titles in 2003 and 2005 respectively.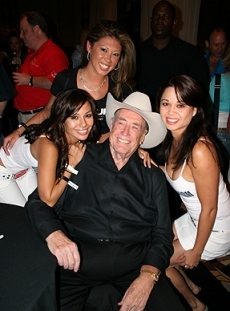 Doyle's raw poker ability may pale in comparison to that of Stu Ungar and contemporary great Phil Ivey, but in terms of longevity, .
Whereas his compatriots have fallen by the wayside, Doyle remains shrewd and perceptive.
Frivolous spending and drug addiction signalled the demise of Stu Ungar. Amarillo Slim, who Brunson described as more cavalier and 'self-promoting' in his youth, became embroiled in a child molestation scandal.
Meanwhile, Johnny Moss in his seventies was a shadow of the player that dominated poker's prehistoric days. Doyle's story shows that the ability to conquer personal demons and retain a level-headed approach is just as important as skills on the felt.
Whereas many of poker's 'old guard' have become intimidated by the new generation of aggressive internet players, Brunson has adapted seamlessly. Season six of GSN's High Stakes Poker, made popular by stellar names such as Ivey, Dwan and Antonius, was the first season Doyle failed to record a profit.
In Fall of 2009, Doyle Brunson celebrated what he claims to have been his last visit to England with a 17th placed finish in the £10k NLH Championship for £31k. Doyle retains his insatiable appetite for the game, and still harbours the adrenaline that comes from gambling. In old age many people become more hesitant and conservative, but Brunson can still be found frolicking on the golf course, making massive wagers with his peers.
Doyle Brunson will leave behind an extraordinary poker legacy. The Brunson name looks set to live on through his son, Todd, who scooped his first WSOP bracelet in 2005. A regular in Bobby's Room, Todd is a specialist cash game player, having crippled wealthy banker Andy Beal for $13.5 million in a Limit Hold'em game.
Doyle's success and his refusal to rest on his laurels transcends poker - it symbolises a victory for human vitality in general.
Doyle Brunson has embraced the online revolution by creating his own website (DoyleBrunson.com), endorsing his own poker room (DoylesRoom.com), and forming a twitter page (TEXDOLLY).
Brunson's pro-active philosophy has seen Bluff magazine laud him as the number one most influential force in poker, and Cardplayer publish a 'Doylism' of the day to help share his wisdom. In a world of many abrasive, obnoxious poker players, Brunson remains humble - a quality he attributes to his Christian beliefs and spiritual side.
His love for poker is unconditional , and as Doyle will tell you, 'you don't stop playing because you get old, you get old because you stop playing'.
DoylesRoom is ideal both for beginners and for more accomplished players who like a chance to play against The Legend.
Type in promo code BONUSTIPS at registration in order to get your 110% bonus up to $550.
Get Your free DoylesRoom Bonus now!