The 5 biggest payouts in poker history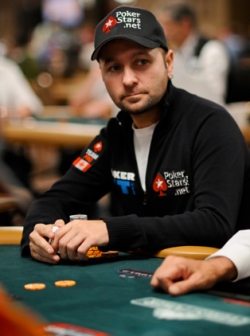 The World Series of Poker established itself as the largest poker event in the World. The prize pool for the event has been increasing consistently as well. The 2006 Unlawful Internet Gambling Enforcement Act shortly halted the progress, by cutting the number of players that won their seats online.
By essentially stopping online poker in 2006, the government pandered to a trend vilifying the gambling industry. Gambling and poker organizations are often dismissed as predatory and fundamentally dishonest in the mainstream media. The same media sources often fail to report organizations like WSOP event organizer Caesars Entertainment Corporation and Netent casino that are dedicated to upholding highest standards of transparency and social responsibility in their business practices. Companies that try to raise awareness about addictions and operate using the highest standards and integrity. A WSOP organized charity event, "The Big One for One Drop" held in 2012 raised more than 5 million USD for the One Drop Foundation. One Drop Foundation's activities are aimed at trying to provide clean water to impoverished communities around the World.
In fact, most of the entries including the entry for the first place on our list today will be charity-related. Poker community has raised millions upon millions of dollars over the last decade for good causes.
The WSOP first organized a tournament with a prize pool of 1 million USD in 1983. The amount of cash offered to winners has since then grown exponentially. 14 of the 20 largest first prize pools in the history of poker were WSOP events. All 20 of those tournaments were also played using the no-limit Hold'em rules. Below, we'll present to you the top 5 biggest wins:
Martin Jacobson - 10 million USD
Martin Jacobson, a professional poker player from Stockholm, Sweden won the WSOP main event in 2014. Jacobson pocketed the 10 million prize money and now lives in London. This win was an absolute highlight of his career and earned him this spot on our list.
Before embarking on a full-time career as a poker player, Martin Jacobson got his education as a chef. He had been consistently making a name for himself in the professional poker community for 6 years by the time he took his shot at the 10 million dollar prize. He had been final tables and prize places at poker events since 2008. At the fateful 2014 event, he beat Felix Stephensen on the 35th hand of heads-up play in order to pocket the money.
His career earnings total on well over 15 million USD. The majority of that money being WSOP-related.
Jamie M. Gold - 12 million USD
Jamie Gold is a man of many trades. He's been a producer, a talent agent and a professional poker player in his lifetime. Gold beat everyone and took home a crazy sum of 12 million dollars in the 2006 WSOP main event. The event had a 10,000 USD buy-in requirement.
Gold too had worked on his career for a few years before he got a chance to win this kind of fortune. Over the entire duration of the event, Gold was on top. He managed to acquire and maintain a strong chip lead that outlived 8,772 competitors. Gold dominated the entire tournament in an impressive display of manipulation and skill. Finally, he eliminated Paul Wasicka to pocket 12 million and earn the fourth spot on this first.
The man was a chatty opponent to have. He would tell the other players what hand he was holding. Telling the truth at times and lying in other instances. This many considered a violation of rules. Gold even flashed his face card at one point, which caused his opponent to become suspicious and fold despite holding a better hand. But the WSOP didn't interfere or stop him from doing so, therefore he won fair and square as far as we're concerned. Gold was only warned about his tactic in 2007. Evidently, his antics didn't help him that time anyway, as he was eliminated in that tournament.
Despite his short-lived career, Gold made history by becoming the first person to surpass the 10 million USD mark in professional poker. His total career earnings are estimated at over 12 million USD. Nearly all of that money comes from his big win.
Controversy and lawsuit
As was later uncovered, Jamie Gold had been in an agreement with Bodog.com. He had promised to wear the company's shirt and recruit celebrities to play in a main event organized by Bodog.com. In exchange, Bodog provided a paid entry into the 10,000 USD tournament for him. He had also agreed to share half of his winnings from the tournament with Crispin Leyser if he helped him with this deal. Leyser presented the recorded voicemail from one man to another, promising to pay Leyser "your half." Gold left the voicemail on Leyser's phone on the last day of the record-breaking tournament. The case was later settled outside of the court for an undisclosed amount of money.
"Jamie always intended on sharing his winnings with Crispin," the issued statement said. "Jamie and Crispin are happy to report they have fully settled this matter. They are pleased to be closing this chapter and look forward to continued success."
Elton Tsang Ka-wai - 12,250,000 USD
Elton Tsang is a Chinese Canadian entrepreneur with a number of firms under his belt. He's also a professional poker player who collected 12,248,912 dollars as his prize when he defeated 25 competitors in an exclusive tournament in Monte-Carlo.
This is one of those rare occasions when the title of the tournament doesn't feature WSOP. This 2016 tournament called the "Monte-Carlo One Drop Extravaganza" was yet another charity-focused event for the One Drop Foundation. These events have turned into a tradition over the last decade.
Tsang had been competing in live tournaments since 2006. However, his biggest win before the one that earned him a place in poker history was a measly 70,000 USD. He got that money by winning the Asian Poker King tournament in 2010.
Therefore, like with our previous entrant, most of his career earnings in poker stem from this one big win. Not including the alleged and controversial 3 million EUR he won from Leon Tsoukernik in a private game at Casino Barcelona. The money hadn't been fully paid and Tsouskernik disputed the game, so we decided to stay away from that occasion until everything clears up.
Daniel Alan Colman - 15,300,000 USD
Daniel Colman made international headlines in 2014 when he completed that year's Big One for One Drop charity tournament at the World Series of Poker in the first place. He beat the legendary Daniel Negreanu and clinched the title as well as over 15,300,000 dollars in winnings.
What makes this entry remarkable is that Colman is, in fact, an online poker player. His career reached its peak with this win and earned him a place in history. It also cemented online poker players as legitimate contenders for the list of the best poker players in the World.
The second biggest payout in poker history isn't Colman's only impressive accomplishment. He also became the first player ever to make a million dollars in hyper-turbo tournaments in 2013. He earned that title in just 9 months. He also won the 2014 European Poker Tour in Monte-Carlo, which saw him walk away with more than 1,5 million euros that day.
What's even more impressive is that the same year he won the 15 million fortune, he won quite a few other tournaments as well. He earned over a million dollars by finishing second at the 2014 EPT Barcelona. Later, in September of the same year, he dominated the Seminole Hard Rock Poker Open, beat nearly 1,500 people and walked away with nearly 1,500,000 USD. He added another million to his winnings in October, when he won the WPT Alpha 8 super high roller tournament.
His success didn't go unnoticed. Colman was awarded the BLUFF player of the year prize in the eventful 2014. The man will definitely reminisce about that year in the future. It's very unlikely that he'll ever manage to top the excellence he displayed in 2014. Overall, Colman won close to 29 million USD over his incredibly successful career as a professional poker player. That number surpasses the total career winnings of even the person who holds the first place in our list of biggest payouts in poker history. Let's talk about him.
Antonio Esfandiari - 18,350,000 USD
Antonio Esfandiari is an Iranian American professional magician and professional poker player. That's quite a combination and it proved successful for him. Esfandiari is an accomplished player, having won not one but two World Poker Tour tournaments and three WSOP events over his lucrative career. However, his single largest winning to date was the 18,346,673 dollars he pocketed for completing the Big One for One Drop tournament in 2012.
Esfandiari's first large check came about in 2004 when he earned 1,4 million USD in the World Poker Tour tournament in LA. He's been heavily featured in media and shows, appearing in High Stakes Poker, Poker After Dark and Poker Superstars Invitational Tournament a number of times.
Esfandiari's total career earnings as of today hover around 28 million USD.