PokerStars Sit and Go Tournament Selection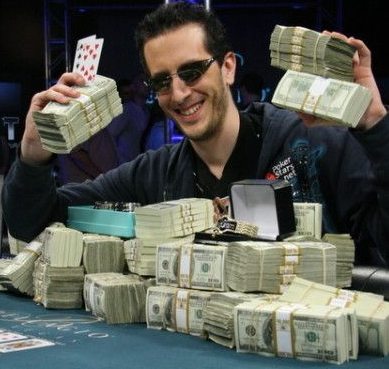 New poker Guinness record.
When I heard recently that Bertrand Grospellier had beaten a world Guinness record by profitably playing 62 sit'n go tournaments in one hour, I thought yes it is just one more proof that Grospellier is one of the best poker players in the World.
But something else struck me.
How could he find that many sit and go tournaments to play in one hour?
Olivia Wang here...
I am a semi-pro poker player and I play all forms of poker and particularly sit and go tourneys. I was curious about Bertrand's achievement, but I knew I could not find that many sit'n gos running in one hour's time at my regular online poker room, so I had to find out where he did that.
This is not a surprise as Bertrand is a pro member of Team PokerStars. He is one of the most successful poker players of the new Internet generation and initially reached fame when he was the first ever player to attain both the Supernova (in two weeks) and Supernova Elite (in four and a half months) levels at PokerStars.
If you play at pokerstars, you know that this is simply close to extraordinary. By the way, simply reaching Supernova Elite status is worth about $120k in special bonuses. But only a few dozen players achieve this level each year, and none of them at this speed. Most of them have to struggle until yearend (this is a yearly contest) to breach the Supernova Elite barrier.

PokerStars Sit and Go Tournaments
---
Anyway as PokerStars always brag about the fact that they are the largest online poker room, I decided to check their sit'n gos and to see how doable it is to play 62 sit and go tournaments in one hour. I started doing that on a Saturday at 5:45PM EST, which is near the peak time during the week. There were a total of 175,839 players logged in a pokerstars.
Part of Bertrand Grospellier's challenge was to only play at one limit, so I checked the $5.50 sit and gos. It is simple to use filters from Pokerstar's lobby, so I only selected "running" tourneys. A sit'n go can be running, registering or completed.
To my amazement, I found 277 $5.50 sit and go tournaments running. More than enough to satisfy a player even more active than Bertrand. If there is one.
Turbo sit'n go are a very popular form of sit'n gos. Most solid players prefer regular sit and go tourneys. It is said that in the turbo format, chance plays a larger part as the blinds rise to fast and players spend a lot of time in low m-zones.
So I screened out all turbo sit'n gos, and I was left with 145 running tournaments, still a very large number. As I said this is just for one buy in level of $5.50. There are certainly thousands of sit'n gos running at one time if all stakes are included.
Within my list of 145 sit and gos were so-called "Double or Nothing" tourneys. This new format was introduced recently and immediately caught on fire. The idea is simple; the top five players for each ten seats table take half the money pool, and double their money. The buy-in level is $5.40.
I had included these tournaments, but some players may not like them as they require a different strategy from regular sit and gos. So I screened them out and was left with 82 regular speed regular format Full Ring (9 or 10 players) No-Limit (&amp a few pot-limit) Texas Holdem Poker sit and gos. Not bad as far as selection goes.
PokerStars Sit and Go Selection
---
It does not make much doubt that Pokerstars has more choice than any other room. But I thought I would continue my investigation, so I decided to have a look at the other choices that they have, such as other buy-in levels and other tournament formats.
As far as buy-ins go, and excluding play money or freerolls, sit and go buy-ins range from $0.25 to $5100. As expected there are hundreds of sit'n gos running at the very low side such as $1.20. There are a bit less at the lowest limit of $0.25 maybe just around one hundred.
There is "some" action at the very large buy-ins, but there are not that many players who play above the $60 buy-in. When I checked, I saw a handful of sit and gos between $225 and $555 and one $1100 sit and go running. And 16 $104 to $114 tournaments. Of course the air is rarefied at $100, but there is good action.
The other pokerstars SNG formats available are multi-table such as 18, 27, 36, 45, 90, 180, 360, 990 seats. Obviously the larger the field, the less often they run. Note that the difference between a regular MTT and a 360 seats sit and go is that the first starts at a fixed known time, while the second starts at the unknown moment when it is full.
They larger multi-table sit and go tournaments bring some variation in your playing experience, as a larger field implies higher payouts but more difficult play. If you want to join a regular 9 or 10 seats sit'n go there is no waiting time, as they fill ultra fast given their sheer number. But for larger MTT, you will have to wait for such larger fields to gather.
PokerStars does not only offer active holdem sit'n gos, but also other poker variations. PLO and Omaha H-L are very active too, with hundreds of tables at any time. And you can find something that you will almost never see elsewhere. Sit and gos in Razz, HORSE, Stud H/L, 5-card Draw, etc.
Note that it is capital to understand your opponents at sit'n go tournaments. This is how the money is made.
The bottom line is: if you want to minimize your waiting time and maximize you choice, you have to try PokerStars now.