Texas Hold 'Em WSOP Main Event 2010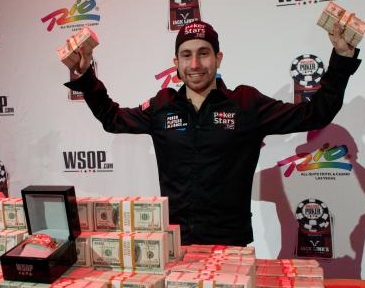 At long last, we have a winner of the 2010 World Series of Poker!
Many poker fans had their money on Michael "the grinder" Mizrachi to win it all, given the poker star's history with the game, and his comfort in the spot light.
So did Mizrachi win the 2010 World Series of Poker? If not, who won the 2010 WSOP?
The 2010 World Series of Poker, like every WSOP event actually kicked off in June of that year when 7,319 players signed up to play in the $10,000.00 No Limit Holdem Poker main event at the Rio All Suite Hotel and Casino in Las Vegas Nevada.
This year marked the 41st ever World Series of Poker. As of last year, the tournament continues until there are just nine players remaining, and then, those final nine become the world renowned November Nine.
They made up the final table of the event which continues annually in November. Play resumed November 6th promptly at 12pm. Each of the November Nine fighting for his share of the remaining $29 million dollar prize pool.
The first place finisher to , before taking endorsement deals and any pre-game deals into account.
The 2010 WSOP November Nine
---
The chip-leader going in was Jonathan Duhamel holding 65,975,000 in chips. Duhamel is also the youngest player at the 2010 WSOP main event final table at age 22.
Second up in the chip lead going into final table play we found 24-year-old John Dolan of Bonita Springs Florid with 46,250,000 in chips. Dolan's not new to poker, having cashed in 5 previous WSOP events.
24 Year old Joseph Cheong is 3rd on the leader board coming out of La Mirada, California with a psychology degree. Cheong starts with 23,525,000 in chips, and will kickoff the final table on the big blind.
4th up on the WSOP Main Event leader board is 24 year old John Racener from Port Richey, Florida. Racener began the final table with a 19,050,000 chipstack.
The player with the 5th largest chipstack is Matthew Jarvis, a 25 year old student who plays online from his home in Surrey, BC. The Main Event marks Jarvis' first cash in any WSOP event.
6th up on the leader board we found 26 year old Filippo Candio of Sardinia, Italy with 16,400,000 to take with him to the final table. Candio holds the title as the first ever Italiano to make it to the WSOP ME final table.
Finding himself in 7th place as far as chipstacks go, but likely in first place as far as poker playing experience goes, and definitely a favorite going into this years Main Even we have Michael Mizrachi. Mizrachi has already won one WSOP bracelet this year, having won the $50k Buyin Players Championship event. Mizrachi has 14,450,000 in chips to work with at the final table.
In 8th place, we find the oldest player to make it to the final table this year, Cuong "Soi" Nguyen at the ripe old age of 37 cashed in the 2008 WSOP Main Event.
Sitting on the short stack we find Jason Senti, who was able to spend the last 4 months working with coach Phil Galfond strategizing his short stack play. Senti is a St. Lois Park Minnesota native.
Play Begins
---
The very first hand of the event involved Matt Jarvis who made a teeny tiny raise, following the common trends of high stakes online poker play, wherein a player makes the smallest possibly effective raise, without actually betting the minimum. It worked, and he took down the first pot of the day.
Jason Senti's shortstack strategy seems to involve betting as much as possible, without actually going all in. If he were to shove all of his chips into the center, he puts a temptation out there. Enticing his opponents with the opportunity to remove a competitor, however, by not shoving in his entire stack, there's a strong bet, that doesn't appear to put his tournament life at risk.
As play progresses, Senti changes his strategy up a bit, actually shoving his stack into the middle a couple of times, buying some very significant pots. When you're playing in last place, you don't have a whole lot to lose, you can take these sorts of risks, and play around a little working your way up the ladder, or if you make a mistake, actually busting out in the position you're already in.
As Jason Senti makes some big plays, he's giving Matthew Jarvis something to worry about.
A little while into the game, Candio gets involved in his first hand. He's playing pretty calmly against Racener who's again chewing gum at the table. As the hand gets serious, and the pressure's on, Racener pauses in his gum chewing, a tell?
During the next hand, we see Jason Senti open shoving again with 9 million in chips. He takes down the blinds and antes. During this play alone, using a pretty common shortstack strategy, Senti increases his chipstack by roughly 12%, holding now 10 million + in chips.
This years event is definitely showing the effects of Internet Poker. Jason Senti is the perfect example. A basic shortstack strategy is to shove when you have less than 10 big blinds remaining, we're actually seeing Senti changing that trend, shoving with less than 20 big blinds as a rule.
Matthew Jarvis however now the short stack isn't open shoving, he's nearly shoving. He's not getting any action, and he's not putting his entire tournament life at risk.
On the big stack, Cuong "Soi" Nguyen is also showing the changing trends that have been created in online poker rooms, constantly making a min-plus raise, not betting 3x the big blind, but not min-raising either.
Online poker sponsorship
---
Another big change we're seeing at the 2010 final table are the labels these guys are wearing, mostly pokerstars and full tilt. They're reminiscent of race car drivers with their jackets covered in poker site logo's. These guys are of course poker superstars, and the 4 months between the creation and the final play of the final table has definitely given them plenty of time to accept endorsement deals.
Mizrachi is working on a triple crown this year, having won the $50 Players Championship , and running for the player of the year, while he's sitting at the World Series of Poker Main Event Final Table. The crowd's cheering, for the obvious favorite to win. Mizrachi's not the only member of his family to cash in the 2010 WSOP Main Event either. All three of Mizrachi's brothers took home prize money from this event. Another neat part of having the Mizrachi family in the event, was having them in the audience, kibitzing and attempting to guess what Michael Mizrachi is holding during hands.
He's at an advantage for sure, with thousands of poker hands under his belt. However, everyone knows who he is, and anyone at that final table that didn't know him inside and out, had 4 months to study his play, watch his tapes, and essentially, learn from Mizrachi's prior poker tournament experience.
That's evident in the first portion of this event, as players consistently fold to moves made by Mizrachi.
Outside of the World Series of Poker, fans are waiting in a line more than 1/4 of a mile long, just hoping for people to leave the event, so that they can get inside and watch. That's huge for the status of poker in the United States. In fact, it doesn't just say something for professional poker, and poker as a hobby, it says a lot for the overall health of the economy right now in the United States.
First player eliminated
---
Finally, Soi Nguyen shoves his chips into the middle of the table from the button, and then Senti. in the small blind asks for a chip count. It would take 7,350k for Senti to make the call.
He doesn't make the call though, he reshoves with Joseph Cheong left to act behind him. Cheong mucks his hand.
When the cards were turned over, Nguyen shows an unsuited AK, Senti's holding a made hand, QQ, however, with both players holding monster hands, this is still a coin flip. Nguyen goes in as the 47% underdog, Senti's pair of queens is the favorite with a 53% chance of winning.
The flop, T, 3, Q, brought Senti another queen giving him trips, but, it also brought Nguyen a gut-shot straight draw. Nguyen's chance of winning was reduced here to 14%. Only a jack could keep him in the game.
The river was a king, finally pairing Senti's hand, and sending him to the rail. Ironically, Jason Senti started the final table on the shortstack. After busting from the Main Event, Soi said that the 4 months leading up to the final table were the best four months of his life. Nguyen said he leaves the 2010 WSOP with no final table regrets, he said he played all his hands correctly, and he's happy with the result.
For his efforts, Soi Nguyen takes home nearly $812K, in addition to the monies earned from the multiple logos worn by the player in the event.
When asked what he intended to do next, the 9th place finisher of the World Series of Poker asked what day it was.
Play resumed 8-handed and went on for quite some time. Matthew Jarvis is seen making several reraises, strong moves in an attempt at moving up the leader board. Action heated up again, and we saw Michael Mizrachi in some big hands.
Some amazing hands
---
In a hand against Jason Senti, the 43rd hand of the day, we see Senti raising Under the gun, and then Mizrachi smooth calling. Senti follows it up with the expected continuation bet, and Mizrachi instills a bit of fear by calling again.
Senti checks the turn, and then Mizrachi takes his shot, stabbing Senti with a couple million chip bet. Senti lays it down. Shortly thereafter, we see Jarvis shove his stack after a raise by Duhamel. Duhamel lays his hand down, but Jarvis isn't out of the woods yet.
Mizrachi the only player left in the hand asks for a chip-count. Jarvis remains perfectly motionless while his chips are counted out. Michael 'The Grinder" Mizrachi would have to call 12.9 million in chips for a shot at Jarvis' tournament life, and he does.
Again, it's a race. Mizrachi's sitting on a monster hand here, a suited AQ of diamonds. Jarvis is the favorite in the hand, with a pair of 9's, until the flop that is.
Mizrachi is blessed with not one, but 2 queens on the flop. That leaves Jarvis with 2 outs, either of which could essentially cripple Mizrachi in this event, he needs a 9 to make a full house and beat Mizrachi. The crowd can be heard split, half yelling for a queen to give Mizrachi quad queens, and half screaming out for the 9 that would give Jarvis a full house.
And the turn is... a 9.
Jarvis now has the full house. Mizrachi has little to no hope, this loss will, and that crazy turn card will cripple him. Mizrachi needs a queen for quads, or an ace for a bigger boat. Jarvis only has to dodge 4 cards here.
And the river is... an Ace.
Matt Jarvis wins 8th place in the 2010 WSOP for a win of $1,045,743.00.
Play continues 7 Handed. At this point in the game we have Duhamel in the chip-lead with 51m, Cheong with 42.7 and the Grinder, Michael Mizrachi with a now healthy stack of 42.1 million poker chips. Senti's sitting on the shortstack.
Jason Senti, still playing using a strong online poker strategy, open shoves with 10.7 million, and wins the blinds and antes once again.
50 hands in we saw a huge hand between the two chipleaders, Joseph Cheong who began the day in 3rd place on the, now holding the chip lead.
The last seven players
---
Joseph Cheong: 60,300,000; 27% of the chips in play,
Michael "The Grinder" Mizrachi: 42,075,000; with 19% of the chips in play,
Jonathan Duhamel: 35,700,000; with 16% of the chips in play,
Filippo Candio:32,375,000; with 12% of the chips in play,
John Dolan: 25,025,000; with 11% of the tournaments chips,
John Racener: 18,325,000; holding just 8% of the chips,
Jason Senti: 11,300,000; with 7% of the chips.
Moving forward, 15 hands later, Senti shoved his stack into the middle from the small blind, and Cheong makes the call from the big blind. Senti shows K7 off suit, and Cheong shows A9, suited, clubs. When the chips are counted, Senti is actually surprised by the amount of chips he had, he had believed himself shorter by two big blinds.
Senti goes into the flop with nothing but two live cards. Thus far, if we've seen a short stack shove, we've seen him bust out of the game. The flop, Jd,6d,3s brought no help nor hindrance to either player. The turn however, was a whole other story, the turn card was an Ace of Diamonds. Cheong who was already in the lead now has top pair, but Senti, in who's playing for his tournament life now has the nut flush draw, any diamond will double him up, and keep him in this 2010 world series of poker final table.
And the River is... the 10 of Diamonds.
Senti hits runner runner here, knocking Cheong out of the chip lead, and thanks to Joseph Cheong, he doubles up. Senti who started the day in last place, and has been fighting all day for his tournament life, just took a big bite out of Cheong.
Chip Counts at the end of Hand 65
Duhamel - 42,8000,000
Cheong - 39,350,000
Mizrachi - 38,575,000
Candio - 35,325,000
Senti - 20,575,000
Dolan - 18,100,000
Racener - 13,725,000
Senti raised from the cutoff position, and was reraised by Joseph Cheong from the button. Cheong insta-called the raise, putting Senti at risk for his tournament life.
Senti held AK, against Cheong's pocket tens, another race.
Before the flop, Cheong had the best chance of winning the race, until the rug was pulled out from under him on the flop which was KKQ. Senti now sat comfortably with trip kings.
Wait, haven't we seen this scenario once before tonight? Cheong now the dog, needing to hit runner runner cards in order to make a straight. The turn was a jack, giving Cheong hope... at this point, Cheong needed a nine, on the river to make a straight, a ten to make a boat. If he found an ace on the river, he'd make his straight, but Cheong would beat it with a full house.
So that's 7 outs. And the river was... The 9 of Diamonds!
In another amazing hand to watch, Cheong wins the pot, and Senti is out of the tournament on the river.
Jason Senti finally busts in 7th place with AK cracks a Miller Lite, and says he doesn't have a plan tonight, after all "It is Vegas Right". Jason plans to play an EPT event at the Bike later this week.
For his trouble, Senti took home $1,356,720 in tournament winnings.
Final six
---
This hand catapulted Cheong into second place, at this point, Michael "The Grinder" Mizrachi held 1st place.
Finally in the 129th hand we're treated to yet another race, this time for the tournament life of Dolan. Dolan shoves from the small blind, and Duhamel insta calls from the big.
Dolan finds himself all in with Q5 of Diamonds, Duhamel shows a pair of 4's. Again we see a coin flip here. Duhamel is the favorite here, if he loses, he drops down into about 4th place on the leader board.
The flop is all hearts, J76. Neither player holds a heart. The turn is the 9 of hearts, if either player had had a heart, that player would have won this hand. The river's a blank three and John Dolan is taken out of the game in 6th place.
John Dolan wins $1.77 Million for his 6th place finish in the 2010 WSOP Main Event
Chip Counts Following Hand 129
Mizrachi: 61,950,000
Cheong: 61,575,000
Duhamel: 52,925,000
Candio: 27,025,000
Racener: 16,125,000
It's not looking to good for Racener who's sitting with just 16 big blinds at this point.
Racener shoves, and gets a call from his friend Michael Mizrachi. Mizrachi the underdog with A8 of diamonds, Racener rockin' AK. The flop is 292, bring with it the possibility of a split pot. The turn however pairs Racener's King, and seals the deal. The jack of hearts came on the river.
Racener doubles through Mizrachi.
Michael Mizrachi loses steam
---
That was the beginning of the fall of Michael 'The Grinder' Mizrachi who eventually found himself all in with Q8. The board read Q45, things looked good, until Duhamel made the call, showing a monster AA hand.
Thus was the end of Mizrachi's 2010 tournament experience as well as his run for player of the year which ultimately went to Frank Kassela.
Following this hand we have 4 players left in the running for the 2010 WSOP Bracelet:
Jonathan Duhamel: 91,950,000
Joseph Cheong: 79,650,000
John Racener: 26,150,000
Filippo Candio: 21,550,000
Next out was the tournaments first ever Italian final tablist, Filippo Candio who finished the event in 4th place for a win of $3,092,545.
Upon his exit, the three final tablers remaining were:
Joseph Cheong: 97,100,000
Jonathan Duhamel: 91,200,000
John Racener: 31,000,000
Cheong loses patience
---
Eventually, Cheong would fall, and Racener and Duhamel would go heads up. According to many in attendance, Cheong played better than any other player at the 2010 final table, even Mizrachi, right up until he 6bet shoved against Duhamel. Cheong at this point held A7 offsuit, for nearly 90 million in chips.
Cheong found that he'd shoved straight into a monster pair of queens. Cheong, now crippled, began his climb back to the top, winning three hands in a row, two of which were uncontested open shoves.
Cheong won $4.1 million for his efforts. Racener, who was pretty much earmarked for third benefited by at least $1.4 million dollars from Cheong's apparent lack of endurance.
A very much handicapped Racener then entered heads up play with Canadian player Jonathan Duhamel. Racener went into the heads up match with a 6 to 1 chip deficit against Duhamel.
Heads-up match
---
The game kicked off pretty calmly, both players seemingly relaxed, playing a pretty small ball game of poker, with plenty of limping, calling, not too much raising. About half way through the event, Racener has picked up some chips. Duhamel for the most part was grabbing most of the pots, raising, beating up on Racener quite a bit.
Racener really seemed to be waiting for a spot to make a big move, perhaps trap Duhamel and double up through him. These guys were , but Duhamel really just looks bored. He's totally composed. He waits a moment before making any move. He thinks about his actions. He's taking it easy, and he's not making mistakes.
Duhamel is letting Racener get away with limping into a lot of pots, even when Duhamel has an ace in his hand as he showed at one point during the game.
About an hour and 20 minutes into the game, the blinds are at 800,000 and 1.6 million, Duhamel has beat Racener back down and now holds 197.05 million in tournament chips, Racener has been chipped back down to 22.5 million.
Finally, Duhamel moves all in, and Racener, now all in for the 2nd time in the evening makes the call. Duhamel is holding Ace Jack off suit, Racener, with K8 suited diamonds, two very live cards, but he does need to hit to stay in the game.
Racener's mom can be seen from the stands yelling "C'mon Johnny". How proud must this mother of a new millionaire be right now!
The flop is 449, with one diamond. Nobody has a pair, nobody has a realistic draw. The turn is the six of clubs, and this might just be the last hand of the 2010 World Series of Poker.
Racener needs a king or an 8 on the river, and the river is...
A blank. The five of clubs.
Jonathan Duhamel becomes the first ever Canadian poker player to win the World Series of Poker Main Event. Duhamel is pulled into the crowd, barefoot!
Jonathan Duhamel wins $8.44 Million Dollars, and the 2010 World Series of Poker Bracelet. The runner up, Racener, wins just over $5 million dollars.
PokerStars, house of poker champions
---
Like 5 World Champions before him, Jonathan Duhamel is a proud member of Team Pokerstars.
PokerStars is the unchallenged leader of online poker. Whatever your level, try them. If you want to improve your poker skills by battling against strong players, there is no better place than pokerstars.
Enter the pokerstars marketing code PSP8181 when you register. This grants you a 100% bonus up to $600 for your first three deposits.