Full Tilt Review: One of the best
Created in 2004, Full Tilt is one of the best online poker sites available to non-US players. After Black Friday in April 2011, the CEO of Full Tilt was indicted and the poker room had no choice but to leave the US market. However, Poker Stars managed to acquire the poker site so that it could reopen its doors to the rest of the world. This means if you have accounts at the two poker sites, you can actually transfer funds between Poker Stars and Full Tilt, but you must first pair both accounts.
Full Tilt has widely been recognized as the online poker site for high stakes cash game action and on this note not much has changed. It is the home of some of the best high stakes games online with players like Tom 'Durrrr' Dwan, Viktor 'Isildur1' Blom and Gus Hansen, who are all part of The Professionals on Full Tilt, regularly featuring in these games.
Full Tilt has its own independent network and is only behind PokerStars in terms of player traffic. Their poker software is simply awesome. Players will always find a suitable game on Full Tilt regardless of what kind of bankroll you have. You will also be able to play Rush Poker, a fast-fold version of online poker that you will find exclusively at this poker site.
Full Tilt
---
Join Full Tilt, deposit $600 and it will be matched! The 100% match bonus applies to all first time deposits made by new players, including the first three real money deposits that players make within 60 days of creating an account. In addition to the sign up bonus, players will also receive Full Tilt Points (FTP's) by playing in real money games. These FTPs can be used to purchase items in the Full Tilt Store.
Full Tilt Software
---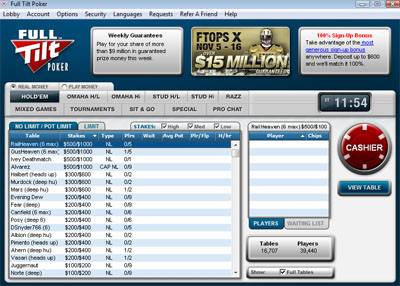 Playing online poker at Full Tilt is a very enjoyable experience as their software has a unique touch.
This is a proprietary poker software developed over the years according to the specifications of their poker pros, and as such it delivers the best any poker player could wish for.
All Full Tilt games take place flawlessly, gracefully and with good speed.
Table design is nice with a choice of seven backgrounds backgrounds including the Vegas Skyline. And you can choose the atmosphere you prefer. The lobby includes filtering options, which let you find your preferred type of game faster. Even the sounds are very crisp and somehow addictive at Full Tilt.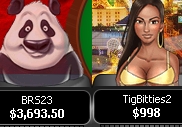 As a player you will be able to choose an avatar within a list including dozens of cartoon like characters, and no other room has such graphically well-done surrogates.
In addition to the two examples in the left picture, this also includes the black ninja, the druid, the frog, the shark and many more. Each poker pro has his own unique look-alike avatar and you can easily spot them at the tables this way. In addition players to right-click on their avatar to change its emotions, depending on whether they feel on tilt, excited, frustrated, etc.
You can multi-table up to 8 tables at the same time and you will find all the options that any serious online poker player would expect to see, including auto top-up of stacks, four colour decks, several table backgrounds which include the Vegas Skyline, and a handy player search function to find if certain players are currently seated at any tables.
It is now possible for two players to "do business" as done on some high stakes TV programs. This means that if two players are all in with for example a big hand versus a draw, they may decide to run the remaining streets two or more times, not just once. Also in"cashout tournaments", players will have the opportunity to cash out of a tournament before its completion based of the size of their stacks. Finally, "deals" at tournaments' final tables can be made between the players without the intervention of a Full Tilt representative.
Full Tilt Traffic and Competition
---
The player base is simply massive at FTP since it is the second largest poker network in terms of overall traffic. They no longer accept players from the U.S. but that hasn't stopped plenty of other players from flocking to the cash and tourney tables and there is more than 15,000 active players at peak times. You will always find action at the low stakes tables.
In terms of the average level of play you can expect to be up against you can either bump into donkeys or sharks depending on the table. Overall, the competition is tougher on Full Tilt than on your average poker room. Making money at Full Tilt all comes down to table selection.
If you play micro stakes, you won't have that much of a problem to find profitable tables to play at if you table select well. The higher you will go unfortunately, the more you'll have to play against decent players who know what they're doing. Remember, Full Tilt is a popular poker room, so there will always be a bad player around the corner with such a massive player pool. With good table selection, you will make money if you are playing well.
If you are a beginner, you can also make a deposit at Full Tilt. Start at the lowest limit preferably in fixed limit Texas Hold'em, and impregnate yourself of the subtleties of the game. As you gain confidence, you can increase the limits you play. The key is to be disciplined. There is a ton of activity at the no-limit and fixed limit holdem tables, and this high turnover introduces all sorts of players, such as beginners or maniacs. So if you are patient and make good table selection, you may sit at a table where over 40% of the players see a flop.
There is an enormous traffic at Full Tilt for all kinds of poker variations such as Texas Hold'em, Pot-Limit Omaha and Omaha High-Low . There is also a lot action in less frequently played poker variations such as Stud & Stud high-low, Razz, H.O.R.S.E. and Badugi Poker. If you are interested in these exotic games, Full Tilt is one of the very few sites offering real action in them.
In Texas Hold'em, the micro-games start at $0.01/$0.02 for no-limit and $0.05/$0.10 for fixed limit. In no-limit, there are plenty of tables available all the way to $3/$6 and even $5/$10. Additionally there are tons of sit'n go being played all the time, from $1 to a few hundred dollars buy-in.
If you want to play PLO, you have found one of the best places on the Web. Micro-stakes start at 2 cents big blind. There are tons of active tables at all time at these micro-limits, mostly 6-max. You will find plenty of tables to choose from all the way to $0.50/$1 including a lot of heads-up tables. Higher you will always find 5 to 10 tables of 6-max PLO at every limit level up to $10/$20.
Rush Poker
---
Have you noticed that sometimes when you look at you hole cards and see a garbage hand, you know that you are going to fold, but you have to wait for the hand to be played (which may take one minute) until you get your new cards? No more delays with rush poker: press the "quick fold" button and you will be immediately transferred to another table with new hole cards.
Full Tilt can boast to have come up with an extremely exciting and unique concept in the world of online poker cash games and tournaments called Rush Poker.
This new version of online poker allows you to play many more hands per hour, keeping you always involved in the action by reducing your wait time in between hands. As soon as you've folded a hand, you're moved to a new poker table with different opponents. You can then take a look at your new hand, fold it immediately if you don't like it and join a new table to play another hand.
The process keeps repeating and after every hand you move tables and you play against all of the players from the Rush Poker player pool for any given game and stake. Because you get to play many more hands than you would on a normal table, it's a pretty handy way to clear bonuses a lot quicker to jump start your bankroll or play more hands in far less time.
This is an accelerated form of ring games where all delays in idle time waiting for your next cards are practically non-existent. This is only possible because of full tilt's advanced software infrastructure. These tables play 250 to 300 hands per hour. So if you are an action players and you like all the excitement of a fast paced poker game, you may consider trying Rush Poker. Rush poker can be played on your mobile device, a perfect combination for mobile poker players. Note that pokerstars developped their competing version called zoom poker.
New to the Game
A nice addition to Full Tilt's broad selection of games is their New to the Game tables where novice players that are new to a specific game get to play against other beginners. Players are considered new to a game until they have played 2,000 hands after which they will no longer be able to play. This is a great way for players to familiarize themselves with a new game without getting pounced on by the sharks at the table.
Customer Support
---
Full Tilt also have 24/7 customer support. The quality of its support is normally very good, and you can usually get a response within a couple of hours. If you need to get in touch with one of the support team you can contact them via email at support@fulltiltpoker.com.
Full Tilt Tournaments
---
The full tilt tournaments is one of the reasons why many players sign up, as there is a large selection in all kinds and shapes from free rolls to large buy-ins as well as special events like the FTOPS.
There are tourneys starting all the time at Full Tilt, mostly between $2 and $100 buy-in. The big tournaments occur during the weekend.
For example the attracts a field of about 2,400 players for a buy-in of $530 and the first prize is around $210K. Satellites for this tourney are available for a tiny $1 buy-in. Or the Sunday Brawl is a $256 buy-in tournament gathering 2,600 entrants with first prize around $100k.
And there are many other tournaments over the weekend and weekdays, with all kinds of lower buy-ins and other games such as omaha, omaha high-low, HORSE, 7 Games and more.
They have interesting guaranteed tournaments during the week, attracting a crowd of regulars. Such as the daily $60k guaranteed, with a $163 entrance fee, a field of about 500 competitors and a first prize that can reach $20k. This is more than 100 times return for the winner, not bad for a few hours work.
Money Transfer Methods
---
Deposit methods

Visa
Mastercard
Instant echecks
Click2pay
Ultra Prepaid Phone Cards
Cash Transfer

Cash Out methods

eChecks
Click2pay
NETeller
VISA
Mastercard
Check in various currencies
Direct Bank Transfer
Full Tilt Summary
---
If you are really interested in online poker, then sign up just to see the wealth of options and benefits Full Tilt has to offer.
Playing online poker at Full Tilt is definitively a great experience and all solid players have a FT account, at least to be able to participate in their tournament offerings if not to be a regular player there.
And the $600 match-up bonus is a great incentive not to be missed.
Whatever the type of poker you like, ring game, tournament, exotic games, micro or high stakes, every poker variation and format is active at Full Tilt. In fact there are so many games or tournaments to choose from, it takes some time to get used to it.