Jonathan Duhamel
2010 WSOP main event winner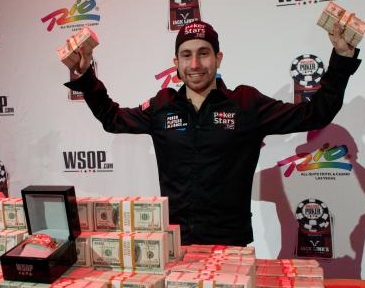 Canada is not exactly a poker hotbed, yet it is home to some very good and very famous poker players, including Daniel Negreanu, Brad Booth, Gavin Smith and many others.
However, Jonathan Duhamel has accomplished something that no poker player from Canada has ever done before. He won the World Series of Poker Main Event. 2010 Main Event winner Jonathan Duhamel, a 23 year old professional poker player from Quebec, beat the odds, and 7,318 other players, to take down the third richest WSOP ME in history.
Jonathan's live changing victory
Duhamel entered the final table of the 2010 WSOP Main Event, the "November Nine", as the chip leader.
His road to winning at the final table was not easy however, as it never is. There were a couple key hands on the way.
In one of the largest pots of the tournament, even before the final table, Duhamel had his entire stack in the middle of the table holding JJ on a board of T, 9, 7, Q versus the pocket Aces of Matt Affleck. He was fortunate that the river brought an 8, giving him the hand and propelling him toward poker history.
In winning the 2010 Main Event, , launching himself into the Canadian poker spotlight. He did cash at two other events during the 2010 World Series as well.
In event 16, $1500 six-max no-limit Hold'em, Jonathan finished 50th for a cash of $5,724. Then only a few days before the start of the Main Event, he finished 15th in the $2500 NL Hold'em tournament for $37,276. He has had some success on the European Poker Tour as well, finishing 10th in the 2008 Main Event for $54,904.
Despite most of the other players at the main event final table wearing Full Tilt Poker labels, Jonathan was wearing the logo of Pokerstars, the leader of online poker where he plays most of the time.

Jonathan's poker style
However, despite his success playing live tournaments, Jonathan Duhamel really considers himself a much better cash game player.
In fact, he is a professional online player, multi-tabling up to 18 six-max no-limit Hold'em games at a time. Not much is known about his online cash game play, except that he "does pretty well."
Well enough to make a nice living for himself. There's little doubt though that his anonymity will remain for much longer, as the entire poker world will now have a spotlight on his every move.
Duhamel now sits in 15th place on the all time money list at the World Series of Poker. It will be interesting to watch how his game develops. We have seen many other WSOP champions who have not lived up to the hype that surrounds them after such a huge cash.
Jonathan Duhamel will undoubtedly appear on national television talk shows and news programs as an ambassador of poker. He will also be invited to join the sharks on shows such as Poker After Dark and High Stakes Poker. His table mates on those shows might not be so impressed but will surely welcome him and his WSOP winnings.
Whatever lies in store for Jonathan Duhamel now, it will most definitely involve poker. The young star has been thrust into the spotlight and will be mentioned along side names like Daniel Negreanu when people think of Canadian Poker.
In time the hype will subside and perhaps he can go back to being just another faceless player on the internet. Until, that is, the next World Series rolls around and the questions begin about how deep he can run in his repeat attempt.
Jonathan Duhamel Team Pokerstars member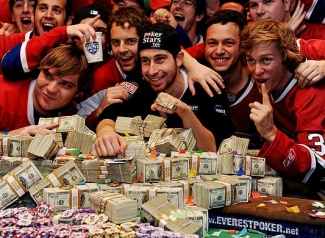 Anyway it is too early to know what kind of poker career he will have and he could also become a great champion.
One sure thing, his play will be watched by hundreds of observers at pokerstars.
If you sign up at pokerstars, you can follow Jonathan regularly playing poker there. His screen name is 'LeJohn54'.
This is the benefit of playing at PokerStars, you can observe and learn from the best poker players in the world.