Mobile poker
Dial 911 – I've suffered a bad beat!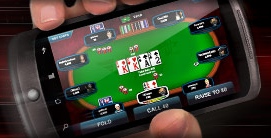 In 1998, 'master of tells' guru Mike Caro helped pioneer PlanetPoker, an mIRC script based client that provided players with the earliest form of online poker.
Three years later, network giants PartyPoker, PokerStars and Ultimate Bet released revolutionary software that rendered mIRC poker redundant.
Fast forward seven years, and we have a device which makes poker well and truly portable – the mobile phone.
The past couple of years have seen many phones, most notably Blackberry, iPhone and HTC establish 3G internet capability. This means they can connect to the internet via the mobile phone operator, or via any wireless hotspot within range.
Previously, poker has been restricted on the mobile phone to play-chip orientated WSOP poker, but sites such as Full Tilt are now developing real money clients. These are available as downloadable 'apps' for Android phones. In order to run the client, you need to keep your phone updated with the latest flash based programs.
Let's take a look at the mobile phone poker rooms available. Switchpoker, which provides a browser based client, has been developed specifically for Apple devices including the iPhone, iPad and iPod, and even provides smooth cash-outs to Moneybookers.
More sophisticated clients such as Full Tilt Poker and UB provide login through your mobile phone and PC, however. Party Poker, the Cereus network (UB/AP), Cake, Betsson, Bwin and Full Tilt are the most reputable rooms that offer mobile phone clients.
With many still in the beta development stage, it is believed that Bwin and Full Tilt offer users the best connectivity. The rooms do not store player details on the mobile client version, which means security issues are avoided.
provides players with the ultimate, streamlined poker experience, as you can play hands in rapid succession. Since multi-tabling isn't really an option on mobile clients, this is perfect for a more enjoyable gaming experience.
The rush poker concept is tailor made for users looking to thrash out a quick session as they go about their daily business, making it the best mobile poker room. Of course, there are still latency issues, but these should be solved in 2011.
There are several pros and cons to mobile phone poker.
The obvious plus point is accessibility – a player can access the game on a round the clock basis, fitting in a lunch-break session to help relieve the stresses of work. This is a very quirky concept in itself.
Cell phone mobile poker will open up the poker market to more casual, recreational players (good news for the sharks), and help destroy any last remaining taboos which highlight poker as a reckless form of gambling. On the flipside, many argue that mobile phone poker harms the essence and integrity of the game.
Playing mobile phone poker on a busy tube in the London Underground isn't going to help you with the finer intricacies of the game, such as using software HUD stats to help read your opponents.
Instead, mobile phone poker provides a quick adrenaline rush, and the chance for a gamble. But what's wrong with a mid stakes grinder having some micro-stakes fun on his mobile phone? Overall, mobile phone poker is an original idea with a bright future. Just don't go dialling 911 if you suffer a bad beat.
Currently Full Tilt Poker offers one of the best mobile poker solution with their rush poker format. This is a pending patent game of poker which plays about five times faster than regular poker, as most waiting times are removed thanks to advanced technology. Rush Poker is .
If you have not yet registered, use full tilt bonus code when you sign up for a 100% bonus up to $600 applicable to your first deposit.
Visit Full Tilt Poker here.