Pokerstars Celina Lin
Sexiest Asian female pro
One of the most noted poker professionals in Asia, Celina Lin carved out a niche for herself in the women's poker industry when she finished in the money in the APPT Macau 2007 event.
Celina Lin is also the first female poker player to win the Macau Poker Cup.
Currently living in Macau, Celina Lin features in several top poker championships of which she has finished in the money many times. She has also been at the final table in the MCP nine times, scoring placements in the top ten every time.
Celina Lin ranks number one on the Macau Poker Cup Leaderboard and has participated in PokerStars Australia New Zealand Poker Tour securing two cash-ins and a third place win at the ANZPT Sydney High Roller tourney where she won $29,255.
One of her most noteworthy wins includes her win of the Red Dragon Poker event in 2009, where the beautiful poker player took home a total of $400,000 HKD after decimating over 168 players in the event.
Celina Lin was born in Shanghai, China and only started playing poker in the year 2004 when she visited the Crown Casino in Melbourne with a friend. Lin had some experience playing Caribbean stud and was on the lookout for a Craps table when she spotted a Hold'em table and fell in love.
Celina Team PokerStars member
Lin then revealed her sharp mind when she built herself a bankroll of $10,000 in three weeks by playing online poker at Pokerstars ands learning the ropes of the game simultaneously.


In 2008, she came in at second place in the Macau Cup which has a buy-in of HKD $9,600. Lin won $10,492 from this game of No Limit Hold'em and this spurred her on to participate in more poker events.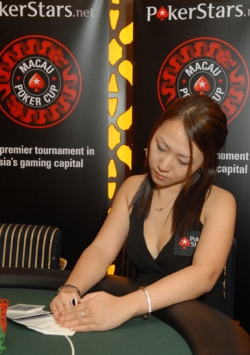 Today, Lin travels between Australia and Macau frequently to participate in the poker tourneys taking place there. Last year, she participated in three top poker events and won over $50,000 in prize money.
As of now, her total amount of earnings in poker tops $120,516 and considering that she has only been playing poker for about 6 years or so, Lin is top form.
In addition to playing poker, Celina Lin is very fitness conscious and practices both Yoga and Pilates to keep herself fit and focused.
She has become an idol for Asian girls all over the world, as she has both beauty and brains and has proved herself in what was once only a man's world.
Celina Lin carries the logo of Pokerstars when appearing at live poker tournaments.
PokerStars is the online poker room with the most pros and Celina plays exclusively there. You can observe her play at the high stakes tables. She uses the poker username 'Celina Lin'
Use pokerstars marketing code when you sign up for a 100% bonus up to $600 applicable to your first three deposits.