Gavin Griffin
Pink hair pokerstars pro
Gavin Griffin is a poker player who likes to set records and win big. He's young, edgy and has been known to sport a pink Mohawk for a cause. He is also one of the two poker players in the world with the Triple Crown and one of the most highly driven poker players you are likely to meet at a poker table.
Griffin set his first record when he became the youngest poker player to win a WSOP Title and when that record was broken the very next year, Griffin did something that only Roland De Wolfe has done – he won the Triple Crown.
This means that Griffin, has won a WSOP bracelet, a WPT championship and an EPT title. And if you add his winnings of over 4,500,000 to that list, it becomes evident that Griffin is indeed a player to be reckoned with at the poker table.
Born and raised in Illinois, Griffin won his first WSOP bracelet when he was 22, although he only started playing poker seriously when he was a freshman at the Texas Christian University. While studying to become a speech pathologist, Griffin played poker at a friend's home games to make some extra money.
Finding himself losing, Griffin went out to improve his skills and studied poker guides and posted his poker hands online to pick up tips.
A job as a dealer at a private game in Arlington, completed his education, where Griffin got to watch and learn poker deception from high stakes players like Sitar and Kattamuri. When he began sitting down at these tables with his betters, he was able to fine tune his poker pro skills and begin making money in a serious way in online poker games.
After he graduated in both college and poker, Griffin decided he was ready for the WSOP. The fact that he was only 22 turned out to be a mere statistic when he won the Pot-Limit Hold'em WSOP Event in 2004. Griffin went home with over $270,000 in winnings, a WSOP bracelet and a . A few days later, Griffin took in big earnings in another WSOP event.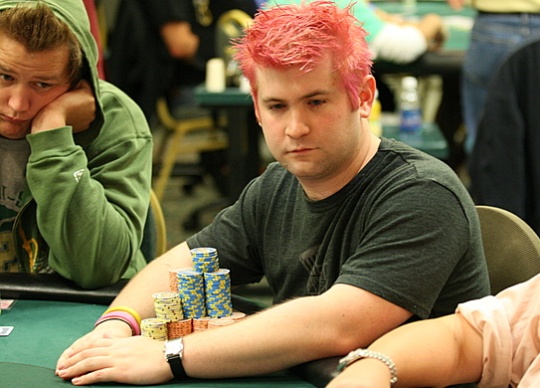 Griffin continued to play poker, practice his skills and gather fans while he made both money and a name for himself. In 2007 Griffin won the EPT Grand Final walking away with a fantastic price of $2.5 million and in 2008 he took the WPT Borgata Winter Open championship, putting the final jewel in his Triple Crown.
Gavin has had 12 money finishes at the WSOP and his live tournament winnings surpass $4.5 million.
In addition to being a good poker player, Griffin is also an active supporter of breast cancer research and has helped in fundraising and creating awareness. He even sported pink hair at the EPT to raise awareness after his ex-girlfriend Kristen had beaten the disease a few years ago.
As a member of team Pokerstars, Gavin Griffin can often be seen there playing at the high stakes ring games and the major tournaments. If you sign up at pokerstars, you can observe and learn from Gavin and even try to bluff him if you dare.