Humberto Brenes
also known as "The Shark"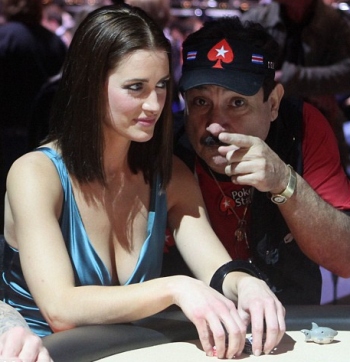 Humberto Brenes is a Costa Rican poker shark who is known for his lively demeanor and thrilling style of poker play.
Humberto Brenes has two WSOP bracelets to his name, has been to three WPT final tables and has plenty of zeros in his bank account balance.
Brenes is quite the character and is known to wear some of the most interesting outfits to his poker games. He is usually seen in bright tracksuits and has been known to wear a visor and two pairs of sunglasses on top of each other.
He has a quirky sense of humor and uses a shark shaped clip to hold his cards.
Brenes has also cashed in at many poker championship tourneys but his greatest win by far occurred in the year 1993, when Brenes has won two World Series Of Poker bracelets and took home $128,000 and $149,000 in winnings. Brenes is married and has three children, all of whom live with him in Costa Rica.
Humberto Brenes is known for his comic nature and was quite the star in the 2006 WSOP main event, where he had the audience smiling with his comments, antics and occasional singing while holding his card hands.
Brenes was introduced to card games by his father who taught him how to play different types of table games. Strangely, it was baccarat and not poker that was the first card game that Brenes learnt. However, once Brenes realized that his poker skills were better than his baccarat game, he made the switch and began to play poker tournaments in 1974.
Humberto Brenes also has a serious side and is quite the business man, having dabbled in several successful ventures like real estate, restaurants, hotels, construction and exports.
Humberto Brenes Pokerstars team member
In 1988, Brenes caught the eye of the poker professionals when he made the final table of the WSOP main event, coming in at fourth place. He also won the Jack Binion World Poker Open in 2002 when he came in first place and took home over $500,000 in winnings.
Over the years, Brenes has played against most top poker professionals such as Greg Raymer, Doyle Brunson and Erik Seidel, the latter whom he defeated heads up in the 2006 WSOP. Humberto has WSOP cashes almost every year, for a total of 58 at the time of writing. With two bracelets and 3 WPT final tables, he has over $5.6 million dollars in total live tournament winnings.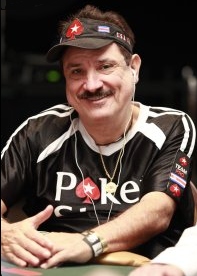 Brenes plays online poker exclusively at PokerStars as he represents the poker room in live events such as the LAPT. He uses the online screen name HumbertoB and is known to regularly take part in online poker tournaments, for most of which he ends up in the money.
Brenes continues to play a lot of poker tournaments and to participate in WSOP games, making a lot of money in the process.
If you sign up at pokerstars, you can observe Humberto regularly playing poker tournaments. His username is 'HumbertoB'.