Marcel Luske
The Flying Dutchman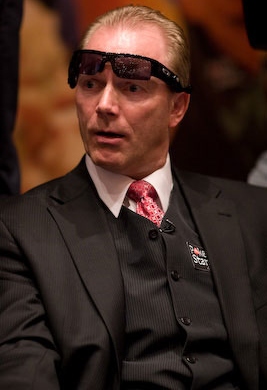 Dressed in his trademark upside down sunglasses and spiffy suits, Luske has the appearance of a strange poker mobster when he sits at a table.
Marcel Luske is also known to pursue singing as a hobby and has released a song called PokerSong, available on his website http://www.marcelluske.com/.
Luske also helps encourage and coach young poker players through his group called the Circle of Outlaws.
Luske calls himself "The Flying Dutchman" paying tribute to his hometown Amsterdam and has been playing poker professionally for over 20 years.
Although Luske participated in the World Series of Poker 2010 he got kicked out on Day 2 A along with Tom McEvoy and Berry Johnston, and his fans can only hope that the next year will bring him better luck.
So far, Luske has no titles to his name but has compensated for this by placing in on the money several times.
Lüske first picked up the game of poker by playing in small cafés and played poker on the side while he worked as a salesman. In 2003 he left sales behind for poker when he felt he could to better at the tables. Luske has won several player awards like the European Poker Player of the year, which he took not once but twice - in 2003 and 2004.
The Flying Dutchman has also featured on television starring in a few Late Night Poker episodes where he competed with John Duthie and Barny Boatman. Other television appearances made by The Flying Dutchman include the show Celebrity poker and Poker Kings NL.
Marcel Luske Team Pokerstars Pro member
Lüske also participated in the 2003 WSOP and the 2004 one of course, where he placed in the money and came in with the top 15 players in both years. He came in 14th in the 2003 main event and fared even better the next year when he came in 10th with $373,000 in earnings. Twice close to the WSOP main event table and to the coveted world champion bracelet, an event with very low odds.
Lüske has other successes more notable than these which include a 2nd place ranking in a Seven-card stud game and a seventh place finish in the European Poker Tour in 2005. His wins include the 2005 Hall of Fame Poker Classic tourney which was a €10,000 event that took place in France. Currently he has over 20 cash-ins to his name and has more than $1,173,396 in his poker bankroll.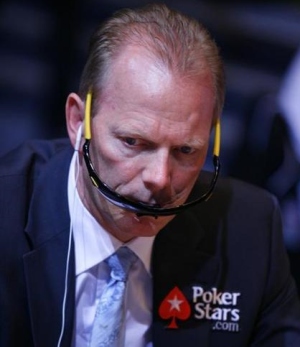 Lüske has been known to mentor young players and some of his protégées include David Williams who almost won the 2004 WSOP Kirill Gerasimov who came in at second place in the World Poker Tour season 1 and fellow Team PokerStars member Noah Boeken who won an EPT tournament.
Marcel attributes most of his passion for poker to his father teaching him the game when he was a child.
Marcel plays online poker at pokerstars.
If you sign up at pokerstars, you can watch Marcel Luske play poker and even chat with him.
His username is 'Marcel Luske'.