Joe "The Kid" Cada
2009 WSOP Main event winner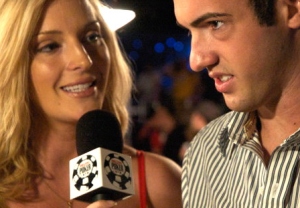 If there is a good example of the online poker revolution, it is Joe Cada.
The 2009 World champion is the youngest player ever to win the most sought after poker title. And he will probably keep this record for a very long time.
As the legal gambling age in Nevada is 21 years of age and Joe Cada entered the competition when he was 21 and a half, it could take decades before a younger player wins the event.
For a long time, Phil Hellmuth was the youngest player to win as he was 24 when prevailing in 1989. He kept the record for almost two decades until Peter Eastgate won the WSOP main event in 2008. He was 22 ½. But Peter's record was short lived.
The 2009 WSOP Main Event
Joe Cada represents the online poker revolution because of his age, his playing style and the way he learned poker.
How can such a young poker player barely of legal gambling age dominate hundreds of older players with much more experience of live tournaments, some of them highly regarded poker pros? Among the 6,494 contestants, no less than twenty of them were past WSOP main event winners, from Amarillo Slim (1972), Greg Raymer (2004) to Peter Eastgate (2008).
The answer is that this is proof that the training that one can get from online poker is much more effective than the learning you will get at a live poker table. Online playing is faster, so you get more poker experience sooner. For example a player just multi-tabling six tables will see ten times more hands per hour than if he was sitting at a casino. Competition is tougher too, and more diverse.
Before winning the WSOP, Joe Cada was a regular kid from Michigan who loved to play poker. And he was good at it.
Joe Cada is not really the poster boy that the online poker industry needs in time of controversial anti-gambling laws in the United States. After all he is a college drop out who choose to become a poker professional instead of completing his education. Not well known before his victory, Joe is one of hundreds if not thousands of young people attracted by the lure of the extraordinary gains possible while playing poker. But only a few succeed.
As an online poker pro specialized in NLHE tournaments, Joe Cada knew all the tricks about how to win a deep-stacked poker tournament. In particular he knew to play tight at the beginning, but to change gear and become more aggressive at the end. And aggressive he was with a number of bold plays at the final table that led him to winning a few all in situations when short-stacked. His strategy paid off as he won the $8,546,435 first prize.
Joe Cada Pokerstars team member
At the time when he entered the WSOP, Joe had been playing poker for 5 years. He had played first online at Partypoker and then live at some Canadian casinos (where legal gambling age is 19). He has had up and downs, but 2008 was his first very profitable year when he earned hundreds of thousands of dollars
Cada was already a poker pro, but after his victory at the world series of poker main event, he was offered a very valuable PokerStars sponsorship. Hence he became the fifth WSOP champion in Team Pokerstars Pro joining Chris Moneymaker, Greg Raymer, Joe Hachem and Peter Eastgate.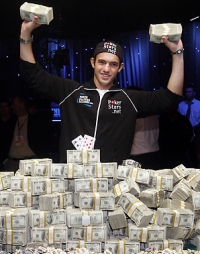 There is no question that Joe Cada is an excellent online poker player. In the twelve months prior to the September 2009 WSOP final table, he won approximately half a million dollars online, playing about 2,000 hands per day at pokerstars.
In September 2009 Joe won the pokerstars WCOOP (world championship of online poker) 2nd chance $1,050 no limit hold'em event for a first prize of $128,872. Also prior to winning the main event, he finished well in the money in two other WSOP tournaments.
Joe Cada attributes part of his success to watching online poker video training material at poker coaching websites.
If you sign up at pokerstars, you can observe Joe Cada regularly playing there. His username is 'jcada99'.