Chad "Downtown" Brown
Vanessa Rousso's husband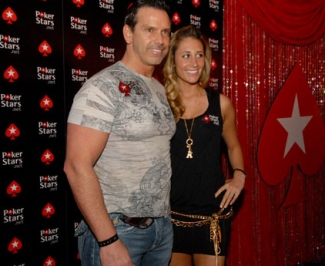 Poker player, actor, ex-bartender, current TV show host and Yankee fan, "Downtown" Chad Brown has proved to the world that poker players don't have to win a WSOP Bracelet to be successful.
Voted Player of the Year in 2006 by Bluff Magazine, Brown currently hosts the Ultimate Poker Challenge TV show and is considered to be one of the top 20 poker players in the world, according to Phil Hellmuth.
As a member of Team PokerStars: Pro, Chad plays online poker exclusively at PokerStars.
Chad Brown is also one of the most well rounded poker players today and is highly skilled at playing several types of poker games like HORSE, Omaha, Texas Hold'em, Heads Up and Seven Card Stud.
And if you consider that he's married to Vanessa Rousso, blonde bombshell and poker professional and has made over 2,600,000 in his live tournament winnings alone – it would seem that Chad Brown is living the life that dreams are made of.
Born in New York City and raised in the Bronx, Brown learned the meaning of discipline on his high school football field. He left this behind to make a career for himself in Hollywood, where he tended the bar at night and attended auditions during the day.
After landing himself a few minor roles in soap operas, films and TV shows, Brown realized that he was making more money by playing poker than he was on the small screen.
Brown first picked up his poker skills from his father's games where he leaned to play Seven Card Stud as a child. Later he played at small Italian cafes in the Bronx and honed his technique under modest stakes. Today, he has taken his Bronx skills to the big green tables and although he has never won a championship till date, he has come very close.
Brown has a long list of tournaments successes in numerous poker variations. He came in third in the 2002 World Series of Poker Limit Omaha Hi/Lo event, second in the 2004 WSOP Seven Card Stud event and second again in the 2005 WSOP, this time in Seven Card Stud Hi/Lo.
His most recent foray with the 2009 WSOP had him in third place of the $10,000 Limit Hold'em event. He also made a second place in 2-7 Draw lowball and a 5th place in pot-limit Omaha Hi/Lo. Despite all these almost wins, Brown is not the least bit disheartened and continues to play it forward.
This could be because he has amassed millions from these poker games, co-authored a poker book called Act To Win in Texas Hold'em Poker and currently hosts a TV show based on poker.
In the past Brown has received a bit of ribbing for and losing out in the second and third places. However, Brown does not consider himself unlucky and believes that being able to do something that you love for a living (which for him is playing poker) is luck enough.
Chad Brown Pokerstars team member
There is no question that Chad brown is an excellent poker player. He is also a great online poker player and he belongs to the most prestigious of all online poker teams, Team PokerStars Pro.
Chad plays poker online exclusively at pokerstars, and when he is not busy competing in big tournaments all over the world with his wife Vanessa, you may find him at the high stakes ring or Sunday tournaments at PokerStars.
If his skills needed to be proven, Chad won the PokerStars WCOOP $5,200 H.O.R.S.E. tournament for $223,150.
Chad attributes part of his poker success to his passion for the game and to his good friends and mentors in the game, including Vanessa Rousso.
If you sign up at pokerstars, you can watch Chad Brown playing poker. His username is ChadBrownPRO.