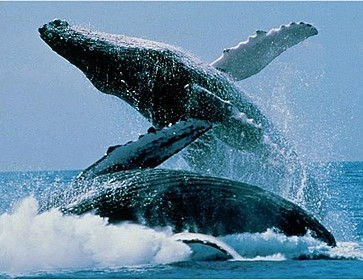 Smart Buddy Review,
Follow the Fish: A+
Would you like to be automatically alerted whenever one of the biggest whales starts playing poker on the Internet at your favorite online poker room?
As Mike Caro writes in his book Most Profitable Hold'em Advice, "there are six foundations of a successful poker business". Foundation number five is "you need to play against the right people!"
Smart Buddy detects fish for you
---
Whenever you play against a new player with very fishy VPIP/PFR/AG like 85/10/0.5, you have indeed found a very nutritious fish, and you do not want to lose it. With such statistics, this player is constantly bleeding money away and it will attract all sorts of sharks. Including yourself, if you want to equip yourself with the software letting you track such players.
click to enlarge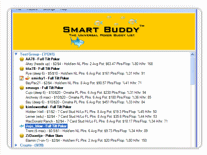 SmartBuddy is the most advanced buddy detection software in online poker. In just one window, you can follow all your buddies from multiple online poker rooms and know when they are online.
Anytime you play online and notice one specific fish who is just donating his money away generously, you can create a player note within Smart Buddy. You may include comments such as "calls very big bets with weak hands" or "maniac who plays wildly and bluffs all the time". You can also use categorical colored icons.
Smart Budddy let you find the fish online. Once a player is in your personal buddy list, Smart Buddy will let you know whenever he is logging in to a poker site and playing online
Smartbuddy let you know at what site and exactly at what table the fish is playing. By double clicking on the specific table which will be listed in the Smart Buddy window, the program will take you directly to the table where the fish is sitting. You do not even need to start your online poker software, as the program does that for you.
Smart Buddy offers one universal buddy list for all online poker sites. It goes beyond the features of the standard buddy lists provided by some of the online poker rooms, as it offers one central location for all the players from multiple rooms you want to track and has more advanced functionalities. It will save you a lot of time and money.
Table Selection with Smart Buddy
---
Other features of SmartBuddy include custom groups that you can create, like "tough regulars", "maniacs" or a group based on the limits they play. The software works will all poker variations, like Texas Hold'em, Omaha, Stud, HORSE, etc. All information regarding which players are online is updated in real time.
You can customize the alerts with sounds of your choice. You can import some buddies' lists that you already have on your computer. Smart Buddy can load up automatically whenever you boot up your computer so you do not need to worry about missing opportunities.
SmartBuddy supports all major poker sites such as PokerStars, Full Tilt Poker, PartyPoker, Bodog Poker, Absolute Poker, Ultimate Bet, Sun poker and many more.
For table selection, you can establish filters so that only the type of tables you are interested in will appear. For instance, you can filter by stakes, limit type, number of players, etc. You can also turn some of your lists on and off. Choose which online buddies you want to track.
Additionally Smart Buddy comes with a pre-loaded list of about 120 top professional poker players. You can use the software not just to track fish, but also sharks. If there is a very good player at your limit that you want to emulate, or if you want to learn the tactics of a high stakes player, this software will let you track them down.
Smart Buddy will notify you whenever such a poker shark starts playing online, and you can then decide to either observe his tables or data mine his game. Collecting and studying hand histories of selected top players is a very efficient way to learn poker.
Smart Buddy is an invaluable poker aid that let you find poker players online. This universal online poker buddy list is a tool that you should not pass. Try the free trial version to see for yourself.