SitNGo Wizard Review: A+
SitNGo: a Tournament Coach
---
The SitNGo Wizard is a software specialized in sit'n go tournaments. As we explain in our article about sit and go tournaments, they have taken over the Internet by storm. Sit'n gos have their own dynamics, which differ from ring games or MTT tournaments.
In the early stage of a sit'n go, survival is the priority and you should play tight. This is the easiest past of the sit'n go. At the late stage, the blinds escalate too fast for prudent play, and aggression is the supreme weapon.
The late stage is the hardest part, because it is mainly a fold or push contest where premium hands are rare. You need to know when to push and when to fold based on the cEV, of chip Expected Value. It is impossible to mentally calculate exact cEV in the heat of the battle. Note that this is different from the way you would play a heads-up sit'n go.
You need to become familiar with the usual situations encountered in the late stage. You need to know how to deal with them if you want to become a profitable sit and go player. This is one of the things that SitNGo Wizard can teach you.
SitNGo Wizard in action
---
click to enlarge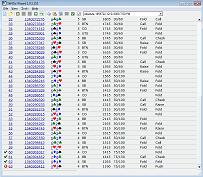 The first step is to open a tournament folder. Choosing this option in SitNGo Wizard loads all the hands played in the folder. If you want to review a particular session, you can create a special folder on your computer and copy some hand histories there, so that the wizard will only load the hands you want to review.
The window coming next displays all the hands played in one sit'n go tournament. Each hand is called a "game" and corresponds to one row in the window. Double clicking on the row brings a hand replayer type of window, called the "game view". It is easy to navigate back and forth between games and tournaments.
click to enlarge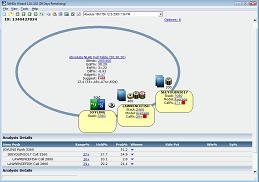 The game view is the most important part of the SitNGo Wizard. It displays a summary of the analysis and a recommendation.
EqP% is the computed equity when you push. EqF% is the computed equity when you fold. Diff% is the difference between the two.
If Diff% is large enough, pushing or calling is the better option, otherwise folding is. The software gives its best recommendation with more detailed calculations at the bottom of the window.
SitNGo Strategy
---
click to enlarge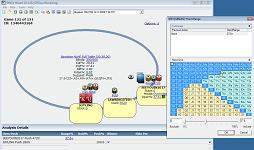 All the analysis discussed above is based on having a hypothetical hand range for each opponent. This is needed to calculate expected values, as the software knows your cards, but assumes possible cards for your opponents.
SitNGo Wizard uses default opponent hand ranges to start with, but you must verify and if necessary modify these ranges in order to use realistic ranges, as the analysis is very sensitive to changes in the hand ranges.
You can create graphs which show you how changing your opponent hand range will change the best action. You can also manually input hands if you want to test specific situations that did not occur in your tournament hand histories.
Additionally you can set the program to "quiz mode" and it will generate random hands to test you. This highly customizable part of the software let you test you areas of weakness. You will see a running score of your results and you can later review the hands in the quiz.
Summary
---
You can try SitNGo Wizard for a free trial period of 30 days. After that, the price is $99. But the SitNGo Wizard team believes in their product so much that if you are not satisfied in the first 3 months after your purchase, they will give you a 100% refund.
This software is a which will be worth many times its price if it helps you become a profitable sit'n go tournament player.
There are two alternative methods to get SitNGo Wizard for free. The first one is to sign up with Titan Poker and earn at least 750 Titan Points, which will give you SitNGo Wizard for free. Or if you sign up at Lucky Ace Poker and earn at least 100 frequent player points, you will get SitNGo Wizard for free as well. Check the details at the SitNGo Wizard website.
Note that SitNGo Wizard is an offline software, meaning that it let you review your hands after you have completed a tournament. This is not an online tool like a pokerHUD and it cannot give you advice on how to play your cards while you are playing. This would be against the terms of service of most online poker rooms.
The SitNGo Wizard employs mathematical models such as the Independent Chip Model and Future Game Simulation to ensure the most accurate results possible.