---
Full Tilt Poker is temporarily closed since Black Friday and is expected to be back online sometime in 2012. Meanwhile:
For the best US poker site, check Carbon Poker,
For the best non-US site, visit Pokerstars.
---
Pokerstars Rakeback versus Full Tilt Rakeback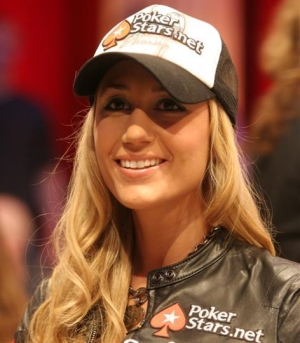 For any aspiring online poker player, .
With the NL Hold'em market becoming heavily saturated, as players have more access to tracking software, data-mining tools and instructional videos, you need a profitable deal to keep on top of your finances. As super grinders such as nanonoko and Leatherass have proved, playing a high volume of hands at mid stakes and above can generate you a healthy salary from rakeback alone.
Both PokerStars and Full Tilt Poker have their perks.
In terms of traffic, PokerStars is the largest room on the web, and its functional, fully customisable software brings multi-tabling to new heights. Full Tilt Poker is not far behind, and with the likes of Ivey, Dwan and Patrik Antonius prowling the nosebleed stakes, it offers that extra bit of glamour.
But how do the PokerStars VIP club and Full Tilt rakeback systems match up?
It's difficult to give a definitive answer, as a lot boils down to individual player variables – number of hands, stakes, psychological preferences etc. This article will weigh up the pros and cons, and try to provide an unbiased comparison between pokerstars rakeback and full tilt rakeback.
Pokerstars Rakeback Equivalent numbers (VIP Club)
---

PokerStars has an intricate, tier based VIP system based on points accumulation. There are two different types of points, VIP Player Points (VPPs) and Frequent Player Points (FPPs). VPPs are earned at a fixed rate, but the higher you are in the Pokerstars VIP Club, the more FPPs you earn per VPP. And the FPPs are the ones that can be exchanged for cash.
In tournaments, you receive 5.5 VPPs for each $1 in entry fee. In cash games with eight or more seats, VPPs are awarded at a rate of 6 VPPs for every $1 in rake scooped. Take the example of a $3/$6, full ring NLH game. The dealt rake system means that in a $3 raked pot, 18 VPPs would be split and each player would receive 2 VPPs.
At 6-max tables, 5.5 VPPs are awarded for each $1 in rake. Now, here comes the tricky bit. The more VPPs you accumulate, the higher your VIP level. The higher your VIP level, the greater the FPP multiplier. For instance, you'll receive 2.5 FPPs per 1 VPP at PlatinumStar, and 5 FPPs per 1 VPP at Supernova Elite.
FPPs can be exchanged for cash bonuses, satellite tournament entry and luxury items in the PokerStars shop (you can follow in the footsteps of Dario Minieri and acquire a Porsche Cayman)! The chart below provides an excellent summary for 6-max and heads-up players.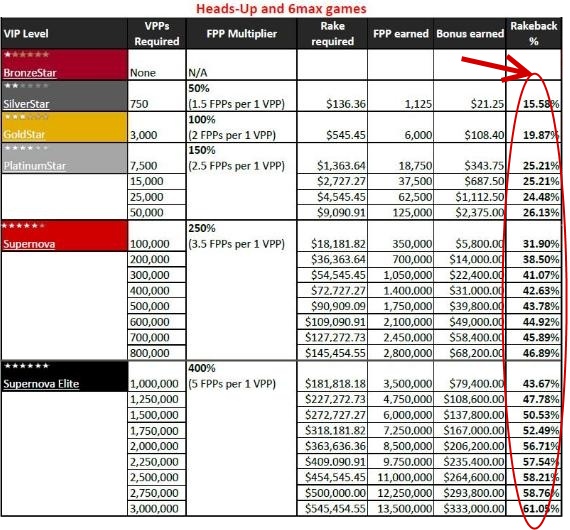 The numbers above are estimates and your results depend on your style and what game you play. But they give a good idea of how much equivalent rakeback you can collect at pokerstars.
Clearly the equivalent rakeback offered by the PokerStars VIP Club surpasses that of Full Tilt (a flat 27%) from the Supernova VIP level. With a staggering 61% rakeback available, the perks of Supernova Elite level make Full Tilt's rakeback system look inadequate. For micro stakes players playing anything below NL50, this is difficult to achieve. You would have to be an avid multi-tabler to come anywhere close to the 100,000 VPP mark.
Theoretically, SuperNova Elite status can be acquired playing stakes as low as NL100, although players will need to be 24-tabling up to eight hours a day in order to fulfil the average, 2740 daily VPP requirement. Players like Leatherass lock up $100k a year in bonuses alone by being SNE.
At the PlatinumStar level, it is very close and given that the numbers in the table are just estimates, Pokerstars and Full Tilt have nearly the same rakeback rate. As PlatinumStar also includes juicy freerolls (exclusive for VIP players), the free opportunity to compete in the $100k monthly tournament could be worth about 1% rakeback, making it about even between the two sites.
Platinumstar can be achieved by who plays regularly above the micro-limits. If you play lower you are still learning and you cannot make much rakeback anyway at the lowest stakes.
Full Tilt Rakeback
---

By contrast, Full Tilt Poker offers a flat, 27% rakeback.
So if you rake $100 in a month, you will receive $27 in rakeback. This has obvious psychological benefits, particularly for a player who struggles with the mental aspect of the game, as there isn't the pressure to reach monthly VPP targets.
If you are a player who likes to take time off from the game, Full Tilt's rakeback system is advantageous. Full Tilt Poker also boasts the Iron Man Challenge, where if you accumulate 500 FTP points a day, you can earn a $400 monthly bonus.
In a 6-Max game, where a total of $1.80 is raked from the pot, 18 Full Tilt Points are awarded and split so each player receives three points. Additionally, you get the chance to compete in the Iron Man freeroll, and square off against red pros in a series of heads up matches, for a combined total of $100k. Whereas at PokerStars you have to spend FPP points to receive the equivalent rakeback, at Full Tilt you can amass FTP points along with Iron Man medals and rakeback.
Although Full Tilt Poker looks the shrewder option for micro-stakes players, they rake 1 cent for every 15 cents in the pot. PokerStars do not rake anything until the pot reaches at least $1. This makes it harder for super micro stakes players (NL10 and below) to eek out a profit.
For the majority of high volume, high stake players, the PokerStars VIP system scores a knockout blow. But for NL25 and NL50 (often the transition between recreational and semi-serious play) players, who can't devote all their time to poker, Full Tilt Poker secures a late stoppage. Of course, there are many permutations, and looking at things such as our rakeback calculator (in the left column) will help you decide what is best.
Now is time to join the program that fits you best:
Join Pokerstars VIP Club

Join Full Tilt Rakeback