How to build your Confidence at Online Poker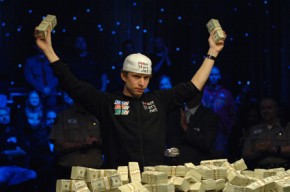 Poker is above all a psychological game. There is psychology at the table as your success during a poker session depends on your correct understanding and manipulation of your opponents' psyche.
But more generally speaking poker is a game of psychology with yourself. You need to know yourself well in order to become a great poker player. And you need a high level of confidence in yourself to make the right plays.
Why is confidence so important in Poker?
---
Unlike more deterministic games such as chess, chance has a large influence over short-term results in poker. This influence can be felt even in the medium or long term.
Some players are very lucky at the beginning of their career by winning a large tournament, leading them rapidly into high stake games. Others start by failing miserably at the low stakes games and stay at these levels forever.
In the Cincinnati Kid, Steve McQueen plays a marathon five-card-stud game against Lancey Howard with the high hope of dethroning him and becoming "The Man". But during the last hand Lancey draws to and hits a straight flush against the Kid's Full House. By "making the wrong move at the right time", Lancey shattered the Kid's ambition and confidence.
Confidence in Poker is crucial. Confidence is needed because unlike most human competitive activities such as tennis, you will not get confirmation for your right moves. Often the right move leads to the loss of a large pot. And often you will see online players making horrendous plays and getting rewarded by a lucky outcome.
Confidence is necessary to withstand all the bad beats, coolers, swings and the variance. By losing confidence and departing from their A-games during a downswing, many online poker players accentuate their losses. Your motto should be "maintain high confidence in myself and always play my A-game". If you continually find yourself low on confidence and your game is suffering because of it, you may want to play blackjack instead.
Build confidence in your Poker skills
---
Having faith in your ability means that you must have some ability. In this section I discuss how to build your confidence if you are a winning player. If not, you must first develop your poker skills. There are many strategy articles in our poker guide that can help you in this regard.
This being said profitable poker players will usually battle a self-confidence war while in a downswing. If you are in such a situation, focus on remembering your past successes and how you achieved them. This is your A-game and this is how you should play now even though it does not seem to work.
Doyle Brunson is currently the top player with the longest career.

During bad streaks, he remembers his good days and this is how he keeps his head cool under all circumstances.
Your confidence will be tested when you move to a higher limit. If it is too much of a test to suddenly play in twice-bigger games, you can start by progressively mixing the two limits. Here I assume that you are multi-tabling, so you can initially add one table at the higher limit, then two, three, until you feel comfortable to make a complete switch over.
Reading, writing or coaching are all activities that help build confidence. By participating in poker forum, you can reinforce your poker knowledge and your confidence. Coaching students is ideal for confidence building. The expression "learning by teaching" means that you must solidify the foundations of your knowledge in order to achieve valuable teaching.
In my article about online poker winners, I emphasize the importance of studying. Poker is a very difficult game. Improve your poker skill by reviewing hands, reading articles, forums & books. Study hard and your confidence will follow. A great format for learning is the poker video training format.
Finally, leave your ego at the checkroom. Your ego is your worse enemy at the poker table. Know your skill level and your limitations. If you believe that you are better than you actually are, you will make sub-optimal plays. Over-confidence leads to these bad plays, then to losses and finally to reduced confidence. Know yourself well to build self-confidence.