PokerVT Review

PokerVT is a website specialized in online poker training. The main instructor is none other than poker superstar Daniel Negreanu, so does PokerVT deliver on its promise of making you win money with the small ball style of poker?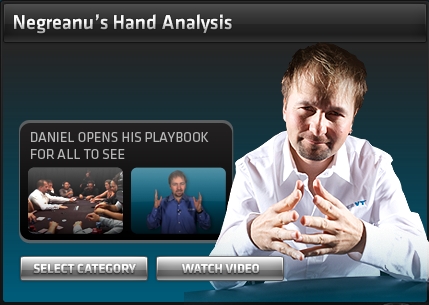 Olivia Wang here...
As an online poker semi-pro, I have tried many poker training products like Cardrunners, DeucesCracked and PokerSavvy Plus.
You can definitively learn more than one tip by watching such poker pro videos, but all poker training sites are not made equal.
I recently joined PokerVT training program and I decided to share my impressions about Kid Poker's poker training site.
Online Poker Training Videos
---
First let me say a quick word about online poker training videos in general.
This is a new form of teaching poker that has become very popular because it is:
a very enjoyable form of learning, with visuals and human touch,
a very effective way of learning, with real card action mixed with strategic thinking from some of the best poker pros,
a very efficient way of learning, with all the material available at any time and the use of the best IT tools to make the experience enjoyable,
a very revealing way of learning, because you can see the players' hole cards while the hand gets played and while they describe why they play the way they play,
a very potent way of learning, because once you have subscribed, you feel obliged to use the system to get what you paid for,
a very innovative way of learning, because as there are still few players using this knowledge, this gives you an exclusive poker edge,
a very pedagogical way of learning, as this is close to private tutoring, and the forum parts of these sites are quasi-tutoring.
It is clear from the above that I recommend this type of learning and I believe any serious players should give it a shot just to determine if this is useful to him or not.
The ability to see a player's hole cards while he explains his thinking process is the type of precious information and teaching that you cannot glean by any other mean. Not in books or in forums. Seeing the hands developing on the screen as if you were in the head of another player is unique and invaluable.
The next question is where to find the best videos and the best deals.
PokerVT Team of pros
---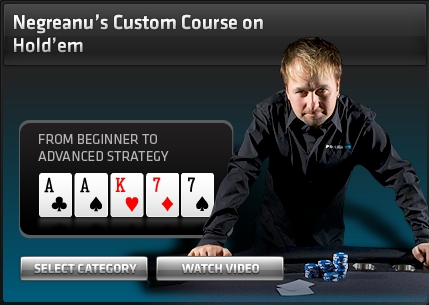 Clearly Daniel Negreanu is the main reason why you want to join PokerVT.
With live poker tournaments winnings of $12,427,047 at the time of writing, 4 WSOP bracelets, 2 WPT titles, 42 WSOP money finishes, there is no question that Daniel Negreanu is one of the best poker players in the world.
Not all great masters are great teachers, but Daniel is known for his outgoing and charismatic personality.
Often called the "unofficial ambassador of poker", he has a huge fan base. And he knows how to teach. All his videos are clear, precise, to the point and last but not least, . Simply put, he tells you exactly how he plays poker.
As a bonus, there are two other poker luminaries at PokerVT, that you must absolutely learn from if you want to know the secrets of how to make millions playing online poker:
Annette Obrestad is a young poker phenom who has already won over $4 million dollars in poker tournaments.

Annette is an extraordinary player who has won one online tournament in a field of 20,000 players, won a 180 seats sit'n go tourney without looking at her hole cards (only once), won numerous regular large buy-in online poker tournaments at pokerstars, full tilt poker and ultimate bet, and also won the first WSOP Europe Main event in 2007.


Paul Wasicka is not a stranger to huge tournament prizes either.

Paul finished second at the 2006 WSOP main event, earning a cool $6,102,499. He also won the 2007 NBC National Heads-Up Poker Championship. So far his total live poker winnings exceed $7.6 million.
There is another dozen highly talented and profitable poker pros at poke vt video training. They teach their area of expertise, such as NLHE sit'n gos, heads-up matches, MTTs, etc.

The PokerVT product
---
The main product offered by pokervt is short poker videos.
There are hundreds of poker videos to watch from all the pros. One interesting video format that you do not see anywhere else is that they replay some live poker tournaments hands, showing all players hole cards. One example of that is the final table of the WSOPE, where Annette Obrestad explains her thinking behind some key hands that led to her victory.
PokerVT is currently tailored mostly for beginners or intermediate players. One type of interesting videos that they have is they record a live game mixing some intermediate amateur players with some pros.
So that what you see looks a bit like poker on television. But not only you see the hole cards, each players tells what is on his mind for some crucial hands. And Daniel may appear in the middle, freezing the hand play and commenting about it. Very instructive.
Additional areas beyond the training videos are:
an active forum where you can communicate with the pros,
a math section and some math videos from a real University math professor, Prof. Charley Swayne who has recently specialized in the math of texas holdem,
a self test area,
weekly online tournaments for members only where the pros participate.
and they add fifty new videos each month.
Overall the site is managed by professional web designers and all videos or site features are of the highest quality. Image, sound and site navigation are all top-notch.
PokerVT summary
---
PokerVT is a high quality poker training service offering valuable information taught by some of the best poker players in the world, emphasizing both live and online poker.
PokerVT is not for micro-stakes players, but rather for players with a reasonable bankroll. The price is in line with similar products on the market, and it is worth it as there is hardly any better place to learn the secrets of some of the best poker players.
There is a one time activation fee of $149.99, and the monthly access is $29.99/month. But you will get 20% off if you use promo code: LEARN2HOLDEM (20% off the activation fee and no membership fee for 90 days).
So you just pay $119.99 for trying the site for 90 days, and if you do not want to continue, you simply cancel within the 90 days. If you like pokervt and want to remain a member, you only start paying the monthly fee for the 4th month.
We have some .
Please send an email to info@learn2holdem.com if you want one.
Ok, it is a little pricey, but one of pokervt students recently won the PokerStars Sunday Millions for a nice $209,804. Let's hear what Stefan Prodan has to say about his win:
"I can say for certain that the things I learned from the pros on PokerVT.com are what made me the winner on Sunday. While other players were being too aggressive in thin spots and busting each other out, I was calmly accumulating chips with small raises and taking the small pots that nobody wanted, and I used those chips to go on to victory."