Sit and Go Poker Tournament Strategy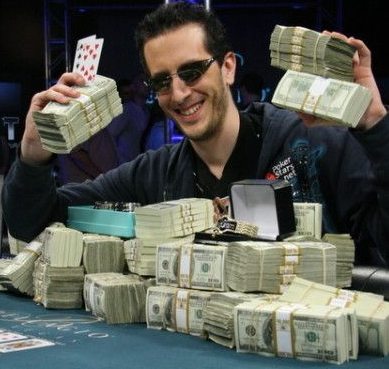 This article will introduce you to the basics of how a Texas Hold'em Sit'n'Go tournaments should be played.
The best sit'n go strategy is to play tight at the first and at the middle stages of the game and to become very aggressive once you are in the money.
The idea is very simple - until you are one of the three remaining players at the table who are already sure they will receive their part of the jackpot, your mission is to survive. Playing tight, only a few of the numerous hands that you get, folding most of them and not being afraid to let others steal your blinds.
The usual online poker Sit&Go tournament practice shows that at the early stages of the game one or two players go all-in, get busted and therefore your chances of finishing in the money increase.
The winning player does not go all-in at the beginning of the tournament. If you want to win a Sit and Go tournament you have to keep to your chips and even be prepared to fold a hand or two that you would not otherwise fold in order not to fall out of the game.
However, you don't have to fold every hand. If you get A-A, K-K or Q-Q, these are the hands that should be even raised pre-flop. And even if you scare your opponents by making a move after a number of folded hands and they all fold, that's nothing to be disappointed about - your goal is only to stay in the game and keep to your chips.
Now if you and come to the last stage of the tournament with only you and two opponents left at the table, this means that you have already achieved your primary goal and will benefit from playing the tournament no matter what the final outcome is.
This is the stage when in order to win you need to start playing very aggressive and surprise your opponents. Calling and raising even with weak hands, just to make your opponents fold and keep on increasing the pot until the showdown with a good hand. This is the kind of play that wins the Sit'n'Go tournaments.
You may find the largest variety of Sit&Go's at the world's biggest online poker room - PokerStars. And don't forget to use the PokerStars Marketing Code upon registering your new account.
The Pokerstars sit'n go selection is truly amazing. At every moment of the day they have thousands of them running simultaneously from the smallest buy-ins starting at $1,10 up to $530 and beyond.
Not just in NLHE, but also in PLO, fixed-limit holdem and omaha hi/lo pot-limit. They have huge traffic in single table full ring, 6max and also in heads-up sit'n gos, so that you never have to wait to get a sit'n go tournament started.