Sit and Go Poker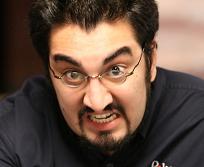 The recent explosion of sit'n go tournaments is a direct result of the Internet. Before, brick and mortar casinos never had the logistic to run sit'n go tournaments profitably. It was logical for them to make full use of their poker tables by having as many poker players sitting as long as possible, favoring full ring cash games.
Online poker rooms do not have such a problem on their virtual tables, as it does not cost them anything to add or withdraw ten new tables at the blink of an eye.
Team PokerStars member RaiNKhAN pictured above is the epitome of the new generation of online poker players. Famous for being able to multi-table a phenomenal numbers of sit'n gos, he finished 6th at the 2007 World Series of Poker Main Event. His preparation was to play thousands of sit'n gos during the twelve months prior to the Main Event. He was filmed playing 26 sit'n gos simultaneously and declared that he could play as many as 32 or 33.
Why play Sit and Go Tournaments?
---
Online sit and go tournaments are highly popular because of their attractive features for today's busy online poker player. They
offer all the excitement of a mini tournament,
usually conclude in less than 90 minutes,
provide a known maximum cost of playing at one table,
make it possible to start a game at nearly any time with little delay.
Standard sit'n gos sit nine or ten players and pay the last three remaining players, allotting 50%, 30% & 20% of the cash pool to the winner and runners-up respectively. Playing a sit'n go is very similar to playing the final table of a tournament, except that only the top three players get paid.
Another form of highly popular sit and go is the heads-up sit and go format. These matches where you only face one opponent are considered the ultimate in poker, and large profits can be made for the most astute players.
Some online rooms offer multi-table sit and go tournaments, such as 2,3,5 or even more tables. The larger the number of tables, the more it looks like a regular tourney. The only difference being that there is a fixed number of seats and the sit'n go tourney starts when all seats are filled, whereas a regular tourney has an unknown number of players but starts at a fixed time.
Playing sit and go tournaments requires a very specific strategy. It could be said that a sit'n go is somewhere between a cash game and a tournament, and as each of these two venues necessitates totally different strategies, so does the sit'n go format as well. It is also important to understand sit'n go players.
Sit and Go Tournaments format
---
It comes as no surprise that the poker variant most often played in sit and gos is No-Limit Texas Hold'em. Next in popularity are Fixed Limit Hold'em and Omaha in various forms such as Pot Limit, Fixed Limit, Pot Limit Hi-Low, etc. Other sit'n go games such as Seven-Card Stud & Seven-Card Stud Hi-Low and HORSE are only played in the biggest online rooms.
Sit and go buy-ins mostly range between $1 and $100. Lower buy-ins can be found at the micro limits of some online poker rooms. For example, at Everest Poker, the lowest level is $0.05. This is useful if you are learning to play online poker. With respect to the high limits, some of the biggest sites like Full Tilt Poker have action at the $236 and $350 levels, sometimes even as high as the $530 and $1050 levels.
We address this question in some of the articles in the sit'n go section. In a nutshell, the dynamics are unique. There is no need to be a hero at the beginning as the risk of elimination is too costly. At the end, you should exert pressure on your opponents who want to play it safe and pass the bubble.
The optimal strategy consists in playing very tight at the early stage and very aggressive at the late stage. There exist very precise quantitative methods for optimal play, such as the Independent Chip Model (ICM) and the Chip Expected Value (CEV).