<![endif]>

Join our Newsletter

& get our free guide

Starting Hands Revealed

We hate spam too!

We value your privacy and never share your email. All our emails have an opt-out link. Click it, and you will never hear from us again.





Sunday Million 5th Anniversary
A life changer
by Graham J-Moffat on March 8, 2011 9:48 AM
The time 16.30 ET. The date 6th March 2011. The place PokerStars.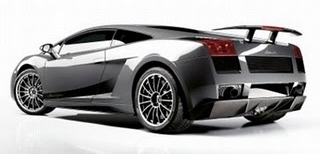 PokerStars Sunday Million tournament was celebrating its 5th anniversary and PokerStars had guaranteed some pretty awesome added incentives for players to want to come along to the party.
A guarantee of $5,000,000 in total prize money. $1,000,000 guaranteed for the winner and just as an extra little piece of bait, not that anyone needed it of course, was a Lamborghini Gallardo for the winner.
PokerStars had put several extra incentives in and more than a few extra ways to get in and you have to applaud them, as this was one of the most exciting, interesting, edge of your seat online tournaments it has ever been my pleasure to witness.
In all 59,128 $215 seats were paid for in one way or another, and players had made their way into the event through one of an incredible number of routes that had been made available to them.
PokerStars own special Sunday Million $11 feeder turbo with 1,000 guaranteed seats was one such way. This turbo tournament let the traps open at 15.45 ET, just 45 minutes before the main event itself was due to start, so some did wonder what was going on, especially with the potential numbers most could see taking part, "it", being the most likely last chance for thousands who either hadn't got, or were not willing to pay $215 to gain their entry into such a huge, high profile and potentially massively financially rewarding tournament.
With the 1,000 seats up for grabs an incredible but by no means surprising number of people registered. In all, 50,672 players lined up for their mad turbo run at what had now become 2,356 tickets into the Sunday Million tournament. The Turbo didn't actually finish until 17.27 ET, but with the extended late registration available for 120 minutes, this wasn't a problem at all.

With the tournament under way and the entry numbers posted, one didn't have to wait long to see what exactly was on offer in monetary terms.
A $11,825,600 total price pool that eclipsed the guaranteed $5 million and of course a $200,000 Lamborghini Gallardo, $1,655,629.38 for the winner, $1,182,560 for second place and places paid all the way down to 7,450th which would come in at $354.76.
With 10,000 starting chips and blind levels as long as they are in this tournament, it always amazes me how hectic most players behaviour is in how they seem to be running around at a thousand miles an hour, frantically trying to build there stack, as though the end is just around the next corner and when I looked at the departure gates and saw the numbers piling through them at the rate and speed they were, I could do nothing but shake my head at the screen. The first unlucky or perhaps foolish player to depart, was trokky74 from Spain who must have gone out quicker than one can blink.
Following four hours of play and battle through all that carnage, some 9,722 still remained hopeful of their shot at poker glory and the accompanying big time. At this stage coNNBoyle was an early chip leader with 370,717 in his stack. At this four hour stage, players were exiting at the rate of approximately and after just four and a half hours, just 7,660 players remained, just 210 away from the bubble. That money position only actually took a further eleven minutes to reach where 56 players went out in what seemed like one fowl swoop on that hand for hand round.
Due to the prize money at 7,450th being $354.76 and the need to hit 3,240th place to see an increase up to $473.02 players once again started departing at an alarming rate, a further fifteen minutes in from that in the money bubble, at the now five hour mark, a further 2,318 had lost their place at the tables.
By the time the clock had reached playing time of 5 hours and 40 minutes, the numbers had diminished down to 3,200 and the $473.02 pay mark. Five minutes later and a further level still was reached with 2,790 left at the tables and on the $591.28 marker. Players were still dropping out at an approximate rate of one per second and the next pay out level of $709.53 was hit only fifteen minutes later at six hours. Eleven minutes further still and numbers had dropped to 2,000 and the $827,79 marker. At six hours and fifteen minutes the numbers had fallen down to 1,890 with everyone now in the $946.04 zone. Igoryas777 was chippy at this stage sitting with $1,699,083 in his stack. In all there were 20 players sitting with million plus stacks.
It took a total of 6hrs and 22mins to reach the $1k plus pay out mark of 1710th for $1,064.30. By the 7 hour mark numbers had finally fallen to just below 1,000 players and a further 17 mins for the last 855 to be guaranteed $2,010.35. At which point Igoryas777 was back as chip leader again with $3,617,190, having lost the top spot for awhile. In all there were 16 players now sitting with stacks above $2m.
Almost an hour later at 8hrs and 5mins of playing time and the numbers had fallen to 450 and the $3,074.65 pay out. By this time Igoryas777 had taken a hit or two and was down to a stack of $2.2m in 66th spot while new leader Krutte_DK sat with $5,427,720 in chips.
Reaching the $4k plus pay out mark after 8hrs 40mins of play had left 306 players still battling away by which time Igoryas777 and Krutte_DK were both dropping out of the running. Igoryas777 finally went out 232nd for $4,493.72 at which time Krutte_DK had managed to pull back to holding a stack of $2.3m.
Reaching the pay out level of $5,085 at 162nd took a total of 9hrs and 20mins and it was at this point that winnings would start to increase more rapidly. Earlier leader Krutte_DK had gone out just short of this at 164th while Kosino of Spain a previous FTOPS winner was at 37th on $5.2m in chips.
After 10hrs 17mins of play time the $7,213.61 pay level was reached with just 81 hopeful poker players left in the competition. DrJenni MD of Russia was now the chip leader with over $21.5m in chips while Kosino had departed in 78th spot with $7,213.61. RolexMike from the USA, who had been sitting lurking around the top positions for several hours was now in 5th spot with $16.2m.

JoseBCN of Spain was chip leader after 10hrs 30mins with over $22.5m and 70 players left at 8 tables. At slightly under 12 hrs of play the last 18 had been reached and 2 tables remained. The move from 19 to last 18 had seen an increase in price money of just over $3.5k to $16,555.84.
Just a few minutes later at 12hrs numbers were down to 16 with nhur818 leading the way on $76,491,674. MrWiggley88 on 10/10 went out when he called the all in of zeurrr on 3/3 and the flop bringing a dramatic 4,5 and 6, and with a 2 following, you just had to feel for him. Gedeben went out in 13th for $21,877.36 when going all in on A/J only to be called by the A/Q of sheppyshape which held.
With just over 12 and a half hours of play, hand to hand play was brought in for the last 10. pbrsquad was the player to go out on the bubble when his all in with A/J was called by the 8/8 of syndrome1977 and drama ensued when a J fell on the flop followed by a J on the turn, but excitement was short lived when the river brought an 8 and with no A or other pairing on the board pbrsquad was gone and we were left with our final table of 9 battle weary but obviously excited players.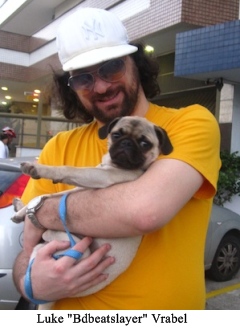 It took just 5 minutes and movement in stack sizes for someone to come on chat and ask about a deal.
All but zeurrr, who was silent and wrzr123 who was chip leader and wasn't sure, agreed to a count and getting numbers, so a count was done. Following this wrzr123 was the only one who said he would not agree and needed to think, so Bdbeatslayer offered him $5k from his cash to agree to the deal which he took just seconds to agree with, everyone replied to the Stars team that they were in agreement but no one at the table had realised that zeurrr had not said a word all along.
Sitting in 4th spot with just under $65m in chips you would have thought he would be happy at being offered just shy of $518.5k, but after 20 mins and prompting from the PokerStars staff he finally said he wanted $650k, more than 2nd and 3rd place offers!
Obviously there was quite an amount of banter, shall we call it, but he would not let up trying to squeeze more and asks for $10k off everyone once he realised he wasn't getting $650k, then $600k.
Personally I think he must have been on a different planet, but after many minutes of some very bad feed back at times he agreed to take the offer. Team Online's Daleroxxo commented "zeurrr, you have sick deal making skills". By this time 13hrs 20mins had passed by. The deal having been agreed to and just the Lamborghini left to play for, "just", I say, a $200,000 super car!
The game got back under way. This was the state of play at the deal stage and prior to the tournament resuming.
* indicates, Prior to $5k agreed deal transfer of funds.

| | | | |
| --- | --- | --- | --- |
| Player | Chip Count | Standard Pay Out | Deal Offered |
| wrzr123 | $108,339,484 | $1,655,629.38 | $839,209.88* |
| Syndrome1977 | $102,993,561 | $1,182,560.00 | $799,842.04 |
| Bdbeatslayer | $86,186,244 | $712,315.20 | $676,093.81* |
| zeurrr | $64,775,632 | $449,372.80 | $518,402.73 |
| Sheppyshape | $57,611,760 | $271,988.80 | $465,647.02 |
| nhar818 | $54338307 | $153,732.80 | $441,541.06 |
| goccyka | $50203242 | $107,619.96 | $411,090.13 |
| Jan10004 | $36,614,737 | $72,136.16 | $311,023.33 |
| Battmeister | $30,214,033 | $41,389.60 | $263,888.06 |
Battmeister was the first to go out as with little to lose and way down on the chip count he went all in with K/7 and was called by Syndrome1977 with K/J, the K and the 7 hit but with a pair of Q's on the board Battmeister was on his way with over $222k more than he may have been, I'm sure he had a huge smile on his face.
Out in 8th was Jan0004 after being called by two players with his 10/10 that didn't improve.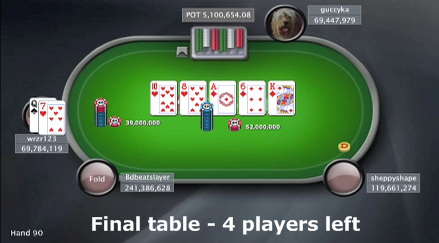 nhar818 all in with A/10 found himself called by the A/J of wrzr123 which held was out in 7th.
Out in 6th position was zeurrr who went all in with his A/J only to be called by wrzr123 who was sitting with K/K that held. It has to be added how sad those left behind felt about Zeurrr leaving!.
5th position went to Syndrome1977 who on only $7m of chips made a desperate all in on two very dodgy cards and was called by wrzr123 who sat with A/8 C and happily watched A/A fall in and make him a full house with a pair of 7's sitting on the board too.
goccyka was out in 4th place after going all in with J/7 C and being called by Sheppyshape with a huge looking A which held.
Down to 3 and it was suddenly all over for wrzr123 who pushed all in with A/9 only to be called by Bdbeatslayers A/8 which caught an 8.
The heads up battle between Bdbeatslayer ( USA ) and Sheppyshape ( UK ) was to last around 25 minutes. A huge 3 x chip leader Bdbeatslayer re raised all in and was called with his 9/9, Sheppyshape with his 7/7 needed desperate help but couldn't find it, and it was all over.
After 14 hours and 34 minutes of play this incredible tournament was at an end and Bdbeatslayer was not only walking away with over $670k but also a $200k Lamborghini Gallardo.
And yes Luke "Bdbeatslayer" Vrabel is a poker pro who had already won millions online. And it probably requires this level of skill and endurance in order to prevail over more than 59,000 contestants. An amateur is less likely to win.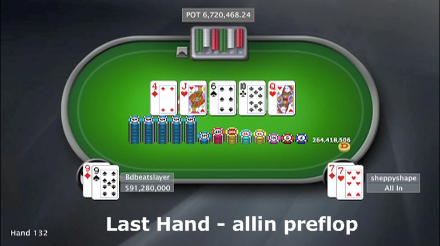 The 59,128 field smashed multiple records, including the previous best field record in the Sunday Million (36,170), which was set during last year's fourth anniversary event, won by RichieRichZH who earned a cool $1.1 million. The Sunday Million 5th anniversary event is the second largest online prize pool ever, second only to the 2010 World Championship of Online Poker Main Event, which, with a buy-in of $5,200, gathered $12,150,000. And it took place at pokerstars as well.
Not all poker rooms are equal with respect to tournaments. There is no pokerstars rakeback, but PokerStars is the online poker room with the best selection of tournaments, from freerols to small to large to huge.