Barry Greenstein
The Robin Hood of Poker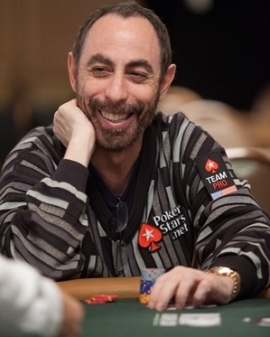 Barry Greenstein may look small-made, quiet and unassuming but is a formidable force to reckon with at the poker tables.
Barry Greenstein is also a poker player with a heart of gold and is known for his philanthropy.
Greenstein has a habit of giving away his tournament winnings to worthy charitable causes and earned for himself the alluring title of "Robin Hood of Poker," after he gave his winnings to Children Incorporated.
Barry has enjoyed immense success at a number of prominent live poker events. He has won thrice at the World Series of Poker (WSOP) and twice at the World Poker Tour (WPT). He reached the bubble at six poker events of the WSOP 2008, winning a whopping total of $768,461.
He has also participated in the first three series of Poker SuperStars Invitational Tournament and all the six seasons of High Stakes Poker, GSN Series.
This highly talented poker professional has also appeared in the first three seasons of NBC's Poker after Dark. So far, Barry has to his credit 44 WSOP cash-ins and his total tournament winnings till 2009 are a breathtaking $6,900,000.

Barry is the author of "Ace on the River: An Advanced Poker Guide," which teaches people how to earn money at the poker tables. This is in part an autobiography, very interesting reading to poker fans. The poker professional is also known to generously give away a free copy of his book along with his autograph to players who knock him off the table.
Barry Greenstein sponsored PokerStars pro
Barry was born on December 30th, 1954 in Chicago into a lively family of poker enthusiasts, where Greenstein's parents both taught him poker and encouraged his talent for the game.
Barry soon learned to play an analytical, precise and methodical game of poker, after which he began participating in poker contests and winning cash. However, he did not get into professional poker in a hurry and went on to complete his education.
Barry's strongest subjects at school were mathematics and computer science. After graduating from Bogan High School, he obtained his bachelor's in computer science from the University of Illinois. He also tried to obtain a PhD in mathematics, but did not complete his thesis as he prefered to spend his time at the poker tables.
Barry Greenstein could have made a living playing poker, but took a traditional job as a software developer at Symantec because he realized that a down-to-earth job would better qualify him to adopt his four stepchildren.
Today, Barry lives in California and can be found playing online poker at PokerStars. He is the father of two children and four stepchildren. One of his stepsons Joe Sebok is also a professional poker player, whom he developed PokerRoad.com in collaboration with.
If you sign up at pokerstars, you can observe Barry Greenstein regularly playing poker there. His username is simply 'barryg1'.
One of the benefits of playing online poker at one of the main rooms like PokerStars is that you can observe and learn from some of the top poker players in the world, such as Barry Greenstein and many others.