Isildur1
A bio of the unknown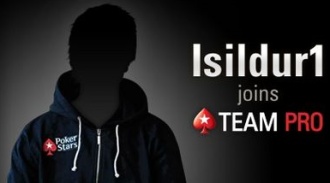 One year on from his dramatic introduction to the Full Tilt Poker nosebleed stakes, mystery Swede 'Isildur1' continues to captivate the poker community.
Showing the same aggression and tenacity as a 10th Century Viking on the virtual felt, Isildur1's incredible swings have cemented his place in poker folklore.
Just when everyone was getting ensconced in the Isildur1 myth, spamming forums to speculate on his identity and questioning his whereabouts, network giant PokerStars went and signed him up. Isildur1 is here to stay, albeit anonymously.
The Isildur1 story
Isildur1's introduction to the Full Tilt high stakes was a tepid one.
He went unnoticed for several months, overshadowed by the previous mystery Swede, 'martonas'. But behind the scenes he was rapidly accumulating a bankroll (reportedly from $2,000, according to a Patrik Antonius interview) big enough to play the nosebleeds.
Playing $50/$100, he obliterated Haseeb Qureshi for $500k in one evening. By mid November, he had the poker community engulfed in mass hysteria. Playing six tables, he ravaged fellow high stakes sensation Tom Dwan for $5 million in a week. He also booked a million dollar winning session against measured Finn Patrik Antonius.
Isildur1's hyper LAG style was always going to be conducive to big swings. As the new kid on the block, players did not give him enough respect, and he duly made a mockery of them. Adding to his relentless 3 and 4bets pre-flop, Isildur1 utilised the 'over-bet' on the river to great effect.
Players just couldn't tell if he had the nuts, or pure air. But Isildur1's degenerate tendencies and total disregard for bankroll management caught up with him. Young, fearless, and with the poker world at his feet, Isildur1 began to dabble in poker's most volatile variant, PLO. Less experienced in this format, his over-aggressive approach was to be his downfall.
Things took a turn for the worse when Isildur1 met the impregnable Phil Ivey at NLH. Widely regarded as the best player in the world, Ivey dismantled the Swede for $3.2 million over three tables. Isildur1 challenged Patrik Antonius at PLO, but was stung for $1 million.
A mammoth session included , worth $1.3 million. Holding a speculative wrap draw, Isildur1 (6d 7d 8h 9s) called an $81k raise pre-flop. Antonius (Ah 3s Ks Kh) flopped the second nuts on a 4s 5c 2h board. Both players went all in, and the turn and river bricked with the 5h and 9c to gift Patrik the pot.

The Brian Hastings controversy
The nail in the coffin came when he was crushed by Cardrunners pro Brian Hastings for $4.2 million dollars, all in the space of 24 hours.
Now stuck over $5 million, Isildur1 began to fade from the limelight. But he was still at the centre of all poker gossip.
Despite his degeneracy, people praised his fearlessness. Ilari 'Ziigmund' Sahamies questioned if he had a chromosome missing for daring to play the likes of Ivey, Dwan and Antonius simultaneously, whereas Phil Gordon claimed he was a major threat because 'he always put opponents to big decisions'.
The community rallied round Isildur1 when the controversial circumstances in which Hastings booked his $4.2 million win emerged. It was found out that Brian Townsend had compiled a sample of 30,000 hand histories from Isildur1, and shared his findings with fellow Cardrunners members.
The team discussed the intricacies of Isildur1's play, such as his betting patterns. Despite a potential violation of Full Tilt's T&C's, Isildur1 remained gracious in defeat, and refused to pursue the matter any further. This won him further plaudits, and the likes of Tony G expressed faith in the Swede, offering to stake him if he adopted a more conservative approach to bankroll management.
Isildur1 developed a special aura, and people continued to speculate on his identity. He is widely believed to be Viktor 'blom90' Blom, who forged his reputation by crushing the high stakes on the European, iPoker network.
Garrulous English pro Luke 'FullFlush' Schwartz had predicted that Blom would join an American site several months before his November antics. Just when his identity was set to be revealed at a live, PartyPoker cash game, Isildur1 cancelled his seat.
Stylistically, Blom and Isildur1 are very similar. Back in autumn, at the WSOP Europe, Blom amassed a monster chip stack, only to blow it by making reckless bluffs.
Isildur1 Team Pokerstars member
PokerStars's signature of Isildur1 is a bit of a poisoned chalice.
On the hand, it represents a major coup from Full Tilt Poker, where Isildur1 acquired his daredevil reputation. But, with his clear disregard for bankroll management, does Isildur1 fit the Full Tilt mould of the consummate professional?
Does he have the clean cut image of a Dwan or Antonius? If PokerStars can control Isildur1's adrenaline seeking ways (which they seem to be doing, by limiting him to a $150k bankroll in the 'Showdown' series) then his signature will pay dividends.
In an interview shortly after his Hastings defeat, Isildur1 admitted to having problems with tilt. He certainly brings great publicity, as thousands of people tuned in to his recent 2,500 hand heads-up match with Isaac Haxton (which he lost).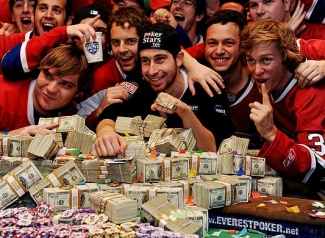 Despite having bags of raw ability, and a unique style, Isildur1 needs to hone his talent. His over-aggressive style may have been great for climbing up the stakes, but so far, the very elite players have been able to dispose of him.
It remains to be seen when PokerStars unveil his true identity. On the one hand, a large chunk of his marketability is that he is still unknown. But, like all their pros, PokerStars will want him to make a name for himself on the tournament circuit.
If you sign up at pokerstars, you can follow Isildur1 regularly playing high-stakes poker. His screen name is 'Isildur1'.
This is the benefit of playing at PokerStars, you can observe and learn from the best poker players in the world. Use marketing code PSP8181 when you register to get your 100% bonus up to $600.