Jason Mercier
The math teacher turned poker pro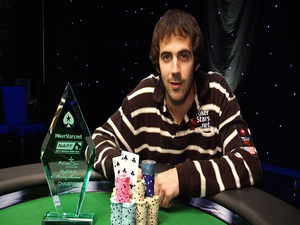 Jason Mercier is one of the top American poker players who descends from Fort Lauderdale, Florida.
Jason Mercier has met great success both online and live in numerous poker tournament venues. Jason first started experiementing with the game of poker with some of his friends when he was in high school.
Mercier was in the process of becoming a full fledge math teacher when his success in poker made him change his mind drastically.
His math skills certainly assist him well in calculating poker odds and helped him choose his new career path as a professional poker player.
Jason Mercier and the World Series of Poker
Jason Mercier has had quite a bit of luck when it comes to the World Series of Poker. Mercier has cashed 14 times at this event and also owns his own bracelet for winning the $1,500 Pot Limit Omaha event in 2009, cashing in for almost a quarter million dollars!
The same year at the World Series of Poker Europe he took 4th place in the main event which made 2009 a great year for him as he won $425k. Mercier had another final table in the 2008 World Series of Poker Europe in the £5,000 Pot Limit Omaha event where he won almost $50,000!
Jason Mercier and the European Poker Tour
Mercier has spent some time in the European Poker tour and has really proven to be a top competitor against the field.
He has made three final tables at the EPT and in one of those final tables he won the whole event earning over $1.372 million! In 2008 Mercier also won the non-title event best known as the "£1 Million Showdown", in other words the £20,000 High Roller Event, which added close to $1,000,000 to his total poker earnings and is one of his best ever wins at a tournament.

More success for Jason Mercier
In the North American Poker Tour Mohegan Sun $25,000 Bounty Shootout tournament he won the event and received a first price of $475,000! Jason Mercier had to take down some big names like Sam Stein and FarazJaka. The tournament wasn't an easy win for Mercier, but he pushed his poker skills to the limit and took down the tournament to bring in the huge cash prize.
Jason is no stranger to online poker as a member of the team of pros at Pokerstars. He even won a WCOOP bracelet which is the equivalent of the WSOP, but for online poker. He won the 2010 $1,050 No Limit Hold'em event, prevailing in a field of 3123 players and earning $435k.
Team Pokerstars Jason Mercier
As of 2011 Mercier's live tournament winnings surpass $5,200,000 total! His World Series of Poker winnings don't even account for one million of his total winnings.
With his career going strong Mercier is still very young and active in his amazing poker career. With the success that this poker pro has been experiencing lately you can expect to see a lot more of Mercier in the years to come. Mercier will surely rise to become one of the best poker players of all time.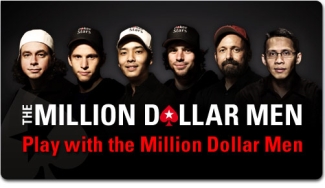 Good Luck to you Jason!

If you sign up at pokerstars, you can observe and learn from Jason Mercier. His username is simply 'JasonMercier'.

And you can even play with him, as he is a regular at pokerstars.