Satellite tournaments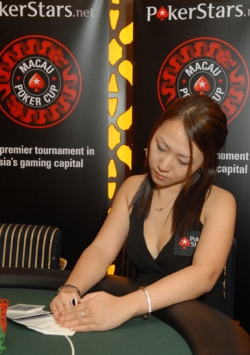 When playing satellites to poker tournaments, you will not want to invest a huge portion of your bankroll to get to the target tournament.
The ideal amount is roughly 1-2% of your bankroll so it doesn't affect your standing with money much, and it allows you a chance to get your bankroll going in a positive direction.
Satellites are simple to enter, but really you want to win the satellites so you can advance, and take your shot in that big tournament down the road. For example, the Sunday million on Pokerstars has satellites that run for $11 to get into a tournament with a buy-in of $215.
This type of satellite is one that is unique in that it is very risky, and you will often not get the entry to the tournament.
You will have to get very lucky at times in it and can't really win the satellites all that often.
So, if you play four of these satellites at a time, your odds increase and can cut down the variance, and luck factor. Also, you could play a higher buy-in satellite tournament to the target tournament to give yourself a better chance to win the entry, but the players will also be better the higher the satellites you play.
More times than not satellites is a way to save money on entering a big poker tournament. Even if you play 10 of the $11 satellites and only win an entry in one of them you are still winning the entry for less than the buy-in to the tournament.
When you win an entry for less than the big entry fee of the tournament you will almost always relax more when playing the tournament, and thus play better in the tournament.
If you can win a satellite online to the tournament playing online you can also unregister from the target tournament.
With the lot of dead money in these satellites, you can build up what are called tournament dollars faster and boost your bankroll sufficiently for other tournaments and sit and goes if that is your forte. There are a lot of online players who will play satellite tournaments because they feel they are that there is a to be made in them.
You can gain numerous entries to one single tournament, and grow your bankroll in these satellites instead of grinding out longer arduous tournaments or sit and goes. But, if you do get a bunch of entries to one tournament, and do manage to make a deep run in it you can pick up a lot more cash then you could of elsewhere. When players feel comfortable they simply play better, and that is a fact.
So, if you can manage to get a couple of entries to a tournament for less than what the original buy-in of the tournament was, you will play better in the tournament and ultimately feel safer when playing a big tournament with a higher buy-in then you are used to playing in.
Not all poker rooms are equal with respect to satellites. There is no pokerstars rakeback, but PokerStars is the online poker room with the best selection of satellite tournaments.