Lessons from a failed Supernova Elite attempt
SNE: where big money can be made
by Mark "mdm13" David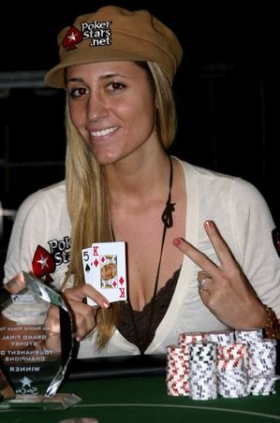 Supernova Elite is the most sought after rewards program achievement in online poker.
Pokerstars has a rewards system that assigns VIP Player Points (VPPs) and Frequent Player Points (FPPs) based off of the rake collected in each hand. The VPPs count towards cash bonuses and increased FPP multipliers at certain milestones. The FPPs are redeemable for cash bonuses, electronics, clothing and even a car!
The rewards program generates around only 10% of rake back in cash for a player who generates less than 750 VPPs in a year. As the number of VPPs increases the rewards become significant. A player who reaches the Supernova level, which requires 100,000 VPPs, receives roughly 27% cash back, as well as an increased FPP multiplier that carries on into the future.
The holy grail is Supernova Elite status. Supernova Elites get roughly 60% rake back, but it takes 1,000,000 VPPs to achieve.
Coming close doesn't really cut it either – earning 950,000 VPPs nets 50% rake back. 50% is good for sure, but between the last 50,000 VPPs there is a 10% spike in value, which is a huge reward for playing only a little bit more. So it's not that you'll completely miss out on rewards (50% is much better than the typical rakeback deal), just that you've been grinding out 50,000 VPP chunks for increases in value in the 1-2% range and the last chunk is worth 5 times as much for the same amount of work. Plus not receiving the increased multiplier for the next year is a large factor.
A reasonable estimate of benefits for an SNE player in the first year alone is between in rake back, plus actual table winnings ($100,000 is reasonable for a mediocre small to midstakes NLHE player), increased levels of customer service and special promotions.
My SNE attempt
In late 2010, I was mostly playing on Pokerstars and was a Supernova. I started playing with some calculations and figured that 2011 would be a great year to make a run at Supernova Elite.
I had come off of a several month break from poker and was winning at midstakes in the short time I'd been playing again. I had a strong bankroll and possessed strong multitabling capabilities. I'd even played 220,000 hands in a month before. That month took 180 hours of play - a lot of poker for sure, but not unmanageable.
By my calculations, if I played 75% 400NL and 25% 600NL it would take about 1.6 million hands to reach the 1 million VPP mark. Playing 133,000 hands per month seemed attainable and even if I didn't make a single dollar in profit from the tables I'd have enough to cover my living expenses. All I had to do was play around 110 hours per month of breakeven midstakes poker and I'd be golden.
January rolled around and I got cracking pretty quickly. I started off slightly ahead of pace, and even made sure I got way ahead to preemptively compensate for a week long vacation I was taking at the end of the month. There was only one problem – I was losing money.
It was more than I could attribute to variance. I knew I was rusty, and since I was playing so many hours per day I was putting little effort into improving my game.
Furthermore, in a bid to cut down the number of hours I needed to play, I was playing twenty tables at a time. The overwhelming pace that ensued hurt both my strategy decisions and my game selection. Things weren't looking too good and it was only January.
The difficulty of reaching Supernova Elite
To fix my negative win rate, I cut down some tables, but found it very hard to play less than twelve without getting antsy.
Then I moved down to 100NL and 200NL to try to start a positive cash flow without having to deal with the "boredom" of playing a small number of tables. I became a winner again, but at those much lower levels the number of hands necessary for Supernova Elite is significantly higher.
I was starting to get behind pace and began to ramp up the tables again and went back to breaking even. One more vacation and I was significantly behind pace. Pokerstars' exit from the US market in April officially ended my run at Supernova Elite, but the attempt had been all but dead since early March. Most runs end like mine, with a whimper and not a bang,

Lessons learned
While my endeavor was a pretty weak attempt compared to the legendary tales of starting halfway through the year with meager bankrolls told in poker forums, there are plenty of things for a prospective Supernova Elite to take away from my experience.
It is essential to be sure that you are a long term winning player in the conditions that you will be playing under. This is very obvious, but I still got it wrong, and I'm guessing I'm not alone. Winning over 100,000 hands isn't enough. Winning over 300,000 hands that you played two hours at a time during peak hours doesn't count either.
Nor does being a winner in the game six months ago. Play 150 hours of poker for a few consecutive months to test your abilities and resolve. That does not apply for those who play very high stakes or games that generate VPPs at a very high rate, such as SNGs.
It is much better to from playing at the tables than it is to achieve Supernova Elite. Being a solid winning player is a transferable skill that you can bring with you to other sites or live poker rooms.
The VIP Program exists in one place and there is no guarantee that it will always be there. If you make Supernova Elite this year, there is a good chance you won't want to do it again the next year, so your time might be better spent becoming a better poker player.
If you still think Supernova Elite is a good fit for you, I would consult this checklist to see if you have the following necessities (be honest with yourself – I wasn't about the last two):

no job,
poker friends,
a large bankroll,
the ability to adapt to changing conditions,
the ability to play lots of tables for many hours,
a recent track record of winning,
and most of all, a lot of self-discipline.
...
Not all poker rooms are made equal and the best VIP program is at Pokerstars. There are more poker pros at pokerstars than any other room simply because PokerStars knows how to reward their regular players.