Different Ways to Supernova Elite
SNE: where big money is made
by Mark "mdm13" David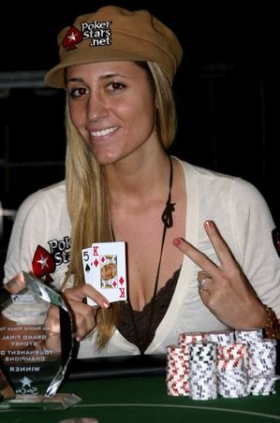 In 2010, 342 players reached the one million VIP Player Points (VPPs) mark on Pokerstars that qualifies a player as a Supernova Elite.
We will take a look at some of the best known Supernova Elites and see exactly how they managed to achieve their Herculean goal.
Randy 'nanonoko' Lew
Randy Lew, better known as nanonoko, is arguably the most famous mid to high stakes mass multitabler. He was a Supernova Elite for three consecutive years, from 2008 to 2010, but is likely to fall short in 2011, due to missing several months after Black Friday before relocating to Canada.
He primarily plays six max no limit hold'em cash games and played as low as 200nl during successful Supernova Elite chases.
However, the bread and butter of his play has been the midstakes tables of 400nl, 600nl and 1000nl, winning nearly one and a half million dollars in the past several years.
This is all while playing a reasonably loose style (more than 20% of hands pre-flop) over twenty-four tables. And he does this for several hours per day, nearly everyday!
Ballcup
A player by the name of Ballcup had a Supernova Elite chase that has become an online poker legend.
In 2009 he took $45,000 worth of action from proposition bettors in TwoPlusTwo's freewheeling Beats, Brags and Variance forum betting that he would be able to earn the remaining 960,000 VPPs he needed to reach Supernova Elite in just five and a half months.
There were a variety of conditions for the bet, but the most important was that all play had to be at 200nl and 400nl. As a slightly losing 200nl and 400nl player, it took extra mental fortitude to grind extremely long hours while , knowing that his profitability for the year would come down to whether he would succeed in his bet.
It came down to the wire, but on December 31st, he crossed the finish line earning a total take of around $145,000 including bonuses, table losses and prop bet winnings.
Ballcup mentioned in a post-bet interview that taking some time out to review his game to plug his leaks was critical to preventing the loss of even more money at the tables.
Dickkemp
Dickkemp, real name unknown, is a two time Supernova Elite who took the more common route of mass multitabling low to midstakes full ring no limit hold'em, made the switch over to pot limit omaha (PLO) in 2010 and easily cleared the one million mark, finishing the year with 1.1 million VPPs.
He played a reasonable twelve tables of low to midstakes PLO, although he suffered a large downswing during his attempt and did not end up with a particularly exceptional winrate.
Dickkemp was kind enough to share his pre-flop stats, which are not particularly meaningful out of the larger metagame context, but interesting nonetheless. For six-max PLO he played 20/15.7/9.5, which is a not particularly aggressive or passive.

George 'jorj95' Lind
Playing a zillion hours of cash games a day isn't the only way to Supernova Elite status - just ask George Lind III, best known as jorj95. He plays high stakes sit'n go's (SNGs) that rack up the VPPs quickly due to the high rake.
A lot of his play is in "turbo" and "hyperturbo" format SNGs, which are known for their high variance and razor thin winrates. Consequently, many of the players in the games make up for their table losses by becoming Supernova Elites.
In 2008, Lind hit the one million mark on March 18th, becoming the first Supernova Elite of the year. Even more impressive was the fact that he took the first twelve days of the year off.
Based off his answers to fans in an online forum, he doesn't have much say much about his strategy, but he does allow that he plays over twenty tables at a time of the highest SNGs running without any regard for game selection.
Unfortunately for us mortals, his advice on becoming as talented as him is a bit vague: Work really hard at learning a game, then put in a ton of volume.
Viktor 'Isildur1' Blom
Viktor Blom, the young Swedish maverick who skyrocketed into the high stakes scene under the username Isildur1, became a Supernova Elite by June of 2011.
Blom plays many high stakes games, ranging from $500 SNGs to high stakes tournaments, as well as high stakes NL and PLO cash games, which are the games that made him famous.
Blom plays a lot of tables at once by high stakes standards, but a lot less than the likes of nanonoko and Ballcup. The extremely loose and aggressive style he employs, combined with the limited availability of high stakes games, makes playing more than 15 tables at a time impractical.
For a player like Blom, who has million dollar swings and plays in some of the highest games to run online, becoming a Supernova Elite is likely an afterthought, as the bonus money is the equivalent of one good night at the tables.
Your way to SuperNova Elite
As you can see, there are a multitude of strategies, stakes, games and time frames that are viable ways for becoming a Supernova Elite.
The lower stakes players compensate for what they lack in per hand VPP rate by learning to effectively multitable and play several hours a day consistently.
Remember that it's to make Supernova Elite and have a profitable year. The skill set for the average Joe who makes Supernova Elite has more to do with dedication and self-discipline than expert level poker skills.
However you choose to do it, make sure that you have done honest estimations and be sure you have the willpower to play more poker than you have ever played in your life.
...
Not all poker rooms are made equal and the best VIP program is at Pokerstars. There are more poker pros at pokerstars than any other room simply because PokerStars knows how to reward their regular players, including the SuperNova Elite rewards.