Bertrand "ElkY" Grospellier
ElkY – Starcraft sensation to poker pro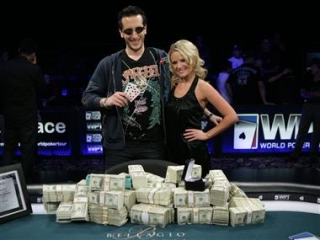 Twenty nine years old Bertrand 'ElkY' Grospellier only knows success.
He forged a career as a leading Starcraft player, before making the seamless transition from virtual world to virtual felt.
Having learnt the ropes online, ElkY is now one of the most accomplished live, tournament players, having racked up over $5.5 million in winnings.
Behind the pale complexion and steely brown eyes is an incredibly fast mind. ElkY's Starcraft days saw him develop a staggering rate of apm (actions per minute), which boded well for his multi-tabling, poker ventures.
ElkY recently smashed the record for most STT played in an hour, as he played 62, raking in a profit of $23.60. A small amount, but an amazing result given that he multi-tabled so massively while being profitable. It is a reasonable constraints otherwise a player could play even more tables without playing good poker, or even just folding every hand.
Having familiarised himself with computers since the age of three, ElkY's first real passion was popular strategy game Starcraft. He was a cyber professional athlete, finishing second at the World Cyber Games in 2001.
Bertrand relocated to Korea, but continued to reign supreme in Europe, as he captured 1st place at the Euro Cyber Games in 2003. After achieving nearly everything in the Starcraft realm, ElkY sought a new challenge.
His high concentration levels made him a multi-tabling machine, and he became the first player ever to reach Supernova and Supernova Elite status on PokerStars.

Bertrand Grospellier top tournament player
ElkY, a close friend of Lex 'RaSZi' Veldhuis (another PokerStars online specialist), made his live tournament breakthrough in 2007. Despite a strong Scandinavian presence, he finished second at the EPT Copenhagen for $399k, and followed this up with his first WSOP cash for $29k.
Bertrand hit the jackpot in January 2008, winning the PokerStars Caribbean Adventure for a massive $2 million. He clearly developed a penchant for this exotic setting, as he returned in 2009 to win the PCA Highroller event for $433k.
A 'cooler' hand with fellow big stack and PokerStars pro Humberto Brenes epitomised Bertrand's good fortune. With Brenes holding 2-2, and ElkY 10-10, a 2-10-Q flop resulted in fireworks.
ElkY's hyper aggressive style means he accumulates chips at an alarming rate, enabling him to go deep in tournaments. He sealed his first WPT crown at the Festa al Lago stop, for a handsome $1.4 million. ElkY remains a shrewd online player, having captured two WCOOP titles for a total of $500k.
Bertrand Grospellier seems to have mastered live tournament play over the past few years. You could also say 'he's been running like a God'. With two EPT titles and a WPT crown to his name, the only thing left to complete his resume is a WSOP bracelet.
Bertrand Grospellier Team Pokerstars member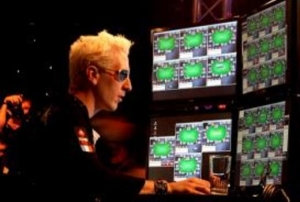 ElkY is one of Europe's leading poker players, but to be mentioned in the same breath as Ivey, Antonius and Dwan, he needs to grapple with the nosebleed stakes.
It seems like that is on his agenda, however, as he appeared on the latest series of GSN's High Stakes Poker. He certainly has the aggression factor to compete with the best.
If you sign up at pokerstars, you can observe Bertrand Grospellier regularly playing poker there. His username is simply 'ElkY'.
This is one advantage of online poker and the main poker rooms like PokerStars in particular, you can observe and learn from the best poker players in the world.