Daniel "Kid Poker" Negreanu
The face of poker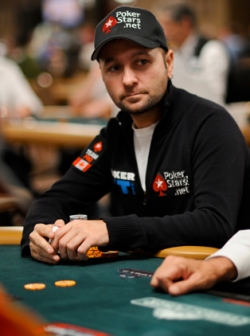 Player, blogger, writer, commentator, philanthropist – Daniel Negreanu is one of the most pro-active people in the poker community.

Daniel Negreanu is also one of the most likeable and intriguing characters. Whilst chatty and opinionated, Negreanu shows remarkable candidness and honesty during interviews, and despite his millions in tournament winnings, he acknowledges he's still a student of the game.

An ardent Toronto Maple Leafs fan (he frequently dons a baggy hockey jersey at the tables) and strict vegan, Negreanu's openness and uniqueness are very refreshing.

Negreanu shot to prominence in 2004 when he scooped two WPT titles for $2.9 million dollars. This is despite starting his career as a Limit Hold'em grinder.

'KidPoker', as he affectionately coins himself, has great tournament pedigree, finding himself second to only Phil Ivey in the all time money list with $12 million. 2007 was a breakthrough year, as he signed with the world's biggest network: PokerStars.
Daniel Negreanu Team Pokerstars leader
Negreanu is a frank, genuine person. Although he holds a lucrative PokerStars sponsorship to go with his site fullcontactpoker.com, Negreanu always tries to give something back to the poker community, having contributed over 100 articles to Cardplayer magazine. There's no underlying smugness that resides in the likes of Tom Dwan – Negreanu is always one to reach out to fans and communicate.
It must, therefore, come as a surprise when you read all the venom directed at Negreanu in the twoplustwo forums. Extensive chat logs have been published with fellow high stakes regulars berating Negreanu at the PokerStars tables, with players such as 'nutsinho' labelling him a 'moron'. Where does this antipathy stem from?
Despite his considerable tournament success, Negreanu's cash game exploits are questionable. Nosebleed stake cash games are seen as the zenith of competitive poker. Tournament fields, particularly in the WSOP, are filled with amateurs, and a solid, conservative approach is more likely to pay dividends.
High stakes cash games, made popular by the likes of Phil Ivey, Tom Dwan and Isildur1 in recent history, are battles of wit amongst skilled peers. They also require a certain fearlessness (some one would argue recklessness) that many of poker's 'old guard' lack or despise.

GSN's popular High Stakes Cash Game series has been a miserable battlefield for Negreanu. Admittedly, he has endured his fair share of bad luck (epitomised by the $575k, full house v quads hand against Gus Hansen in Season Two), but some of his decision making has been calamitous.
Daniel's decision to move all-in for $150k against the super nitty Matusow, holding 7 9 on a K 9 9 flop, was perplexing to say the least. Given the likelihood Matusow was staked his buy-in by friend Phil Hellmuth because of bankroll issues, an outrageous 'Mouth' bluff was not on the cards. Negreanu lost a string of smaller pots due to a passive, small-ball approach, and this seemed to cloud his judgement in major pots. A distressed Daniel sat brow furrowed and arms flailing.
Daniel Negreanu's High Stakes disasters do not warrant the abuse he has been receiving at the $100/$200 tables online. He is the anti-thesis of Phil Hellmuth, who comes across belligerent by declaring himself the 'best NL Hold'em player on the planet', (although this obnoxious persona is part and parcel of the 'Poker Brat' brand).
Negreanu admits he is still coming to terms with the hyper LAG style of the younger generation. On a recent episode of Poker After Dark cash game, Daniel criticised Hellmuth's defensive approach, and admitted they struggle to match the likes of Ivey, Antonius and Dwan. But Negreanu has a burning desire to improve and become a more complete cash game player, recently embarking on a $10 to $100k bankroll challenge.
The criticism directed at Negreanu is totally unjust. He has achieved legendary status in the game not just because of his tournament success, but his warm-heart and overall contribution to the game. Even when abused, he remained composed and even sympathetic to nutsinho's alleged drinking problem on PokerStars chat.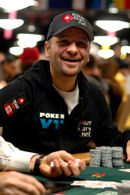 Regardless of his High Stakes Poker mishaps, Daniel remains a very fine player – after all there is a Facebook group claiming he knew what you ate for breakfast last Tuesday.
Great success breeds criticism, so this online berating just demonstrates how great a player Daniel Negreanu is.
Daniel Negreanu attributes part of his success to his early start in the game while a teenager in Toronto, Canada, while skipping class.
If you sign up at pokerstars, you can observe Daniel Negreanu regularly playing there. His username is 'KidPoker'.